🎁 HOLIDAY SHIPPING SCHEDULE 📦
▶
For STANDARD delivery by Saturday, 12/24*
Order by Monday 12/19, 11:59pm
Order by Friday 12/16, 11:59pm
Order by Thursday 12/15, 11:59pm
Order by Wednesday 12/14, 11:59pm
For RUSH delivery by Saturday, 12/24*
Order by Tuesday 12/20, 11:59pm
Order by Tuesday 12/20, 11:59pm
Order by Tuesday 12/20, 11:59pm
Order by Tuesday 12/20, 11:59pm
* Please note these dates are best estimates for when you should order by and are are NOT guarantees.
Beyblade Metal Fury Divine Crown Single Pack B-137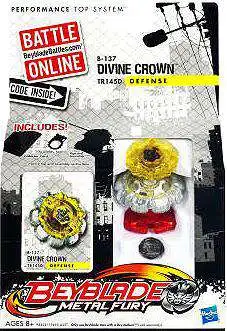 Beyblade Metal Fury Divine Crown Single Pack B-137
---
Availability:
Out of Stock
---
NOTIFY ME WHEN AVAILABLE!
We will not use your email for any other purpose!
Email address submitted! You will be notified if and when this product is back in stock.
---
---
Collect, customize and compete with BEYBLADE PERFORMANCE TOP SYSTEM spinning battle tops! DIVINE CROWN TR145D is a five-piece top with a Triple Roller SPIN TRACK part that helps deflect attacks and a tough Defense PERFORMANCE TIP part that helps withstand attacks. Performance type is defense (built to be stationary in battle and ward off attacks by opponents).
Part of the PERFORMANCE TOP SYSTEM, DIVINE CROWN TR145D is designed for defense. Five-piece tops Triple Roller SPIN TRACK piece helps deflect attacks! Tough Defense PERFORMANCE TIP part helps withstand attacks. Combine parts from different tops (sold separately) to see how it changes the way they battle! Includes 5-piece top, RIPCORD LAUNCHER, instructions, collector card and assembly tool. B-137 DIVINE CROWN TR145D Defense
---
---
See full description...
Product Description
Collect, customize and compete with BEYBLADE PERFORMANCE TOP SYSTEM spinning battle tops! DIVINE CROWN TR145D is a five-piece top with a Triple Roller SPIN TRACK part that helps deflect attacks and a tough Defense PERFORMANCE TIP part that helps withstand attacks. Performance type is defense (built to be stationary in battle and ward off attacks by opponents).
Part of the PERFORMANCE TOP SYSTEM, DIVINE CROWN TR145D is designed for defense. Five-piece tops Triple Roller SPIN TRACK piece helps deflect attacks! Tough Defense PERFORMANCE TIP part helps withstand attacks. Combine parts from different tops (sold separately) to see how it changes the way they battle! Includes 5-piece top, RIPCORD LAUNCHER, instructions, collector card and assembly tool. B-137 DIVINE CROWN TR145D Defense
Product Description
Collect, customize and compete with BEYBLADE PERFORMANCE TOP SYSTEM spinning battle tops! DIVINE CROWN TR145D is a five-piece top with a Triple Roller SPIN TRACK part that helps deflect attacks and a tough Defense PERFORMANCE TIP part that helps withstand attacks. Performance type is defense (built to be stationary in battle and ward off attacks by opponents).
Part of the PERFORMANCE TOP SYSTEM, DIVINE CROWN TR145D is designed for defense. Five-piece tops Triple Roller SPIN TRACK piece helps deflect attacks! Tough Defense PERFORMANCE TIP part helps withstand attacks. Combine parts from different tops (sold separately) to see how it changes the way they battle! Includes 5-piece top, RIPCORD LAUNCHER, instructions, collector card and assembly tool. B-137 DIVINE CROWN TR145D Defense