🎁 HOLIDAY SHIPPING SCHEDULE 📦
▶
For STANDARD delivery by Saturday, 12/24*
Order by Monday 12/19, 11:59pm
Order by Friday 12/16, 11:59pm
Order by Thursday 12/15, 11:59pm
Order by Wednesday 12/14, 11:59pm
For RUSH delivery by Saturday, 12/24*
Order by Tuesday 12/20, 11:59pm
Order by Tuesday 12/20, 11:59pm
Order by Tuesday 12/20, 11:59pm
Order by Tuesday 12/20, 11:59pm
* Please note these dates are best estimates for when you should order by and are are NOT guarantees.
Beyblade Metal Fusion Burn Fireblaze Single Pack BB-59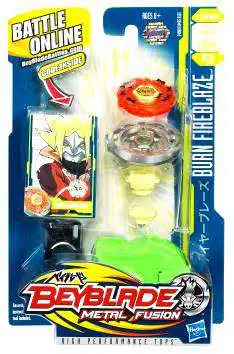 Beyblade Metal Fusion Burn Fireblaze Single Pack BB-59
---
Availability:
Out of Stock
---
NOTIFY ME WHEN AVAILABLE!
We will not use your email for any other purpose!
Email address submitted! You will be notified if and when this product is back in stock.
---
---
Turn up the excitement with this cool customizable top! Choose among the tops five pieces and use the assembly tool to engineer just the right performance. Want to success on a mid-profile track? Add the SPIN TRACK: 135 piece. Need a metal spike tip to increase durability and stamina? Be sure to include the PERFORMANCE TIP: MS piece. Then, set it up on its launcher, pull the ripcord and send it spinning into action! Sharpen your skills on your own or battle it out with your friends in any Beystadium arena (sold separately) theyll be up against some serious competition with you and your BURN FIREBLAZE top!

Top includes FACE BOLT, ENERGY RING: Fireblaze, FUSION WHEEL: Burn, SPIN TRACK: 135 and PERFORMANCE TIP: MS pieces and comes with RIPCORD LAUNCHER and assembly tool.

Stamina BB-59 135MS 24980 BURN FIREBLAZE
---
---
See full description...
Product Description
Turn up the excitement with this cool customizable top! Choose among the tops five pieces and use the assembly tool to engineer just the right performance. Want to success on a mid-profile track? Add the SPIN TRACK: 135 piece. Need a metal spike tip to increase durability and stamina? Be sure to include the PERFORMANCE TIP: MS piece. Then, set it up on its launcher, pull the ripcord and send it spinning into action! Sharpen your skills on your own or battle it out with your friends in any Beystadium arena (sold separately) theyll be up against some serious competition with you and your BURN FIREBLAZE top!

Top includes FACE BOLT, ENERGY RING: Fireblaze, FUSION WHEEL: Burn, SPIN TRACK: 135 and PERFORMANCE TIP: MS pieces and comes with RIPCORD LAUNCHER and assembly tool.

Stamina BB-59 135MS 24980 BURN FIREBLAZE
Product Description
Turn up the excitement with this cool customizable top! Choose among the tops five pieces and use the assembly tool to engineer just the right performance. Want to success on a mid-profile track? Add the SPIN TRACK: 135 piece. Need a metal spike tip to increase durability and stamina? Be sure to include the PERFORMANCE TIP: MS piece. Then, set it up on its launcher, pull the ripcord and send it spinning into action! Sharpen your skills on your own or battle it out with your friends in any Beystadium arena (sold separately) theyll be up against some serious competition with you and your BURN FIREBLAZE top!

Top includes FACE BOLT, ENERGY RING: Fireblaze, FUSION WHEEL: Burn, SPIN TRACK: 135 and PERFORMANCE TIP: MS pieces and comes with RIPCORD LAUNCHER and assembly tool.

Stamina BB-59 135MS 24980 BURN FIREBLAZE