🎁 HOLIDAY SHIPPING SCHEDULE 📦
▶
For STANDARD delivery by Saturday, 12/24*
Order by Monday 12/19, 11:59pm
Order by Friday 12/16, 11:59pm
Order by Thursday 12/15, 11:59pm
Order by Wednesday 12/14, 11:59pm
For RUSH delivery by Saturday, 12/24*
Order by Tuesday 12/20, 11:59pm
Order by Tuesday 12/20, 11:59pm
Order by Tuesday 12/20, 11:59pm
Order by Tuesday 12/20, 11:59pm
* Please note these dates are best estimates for when you should order by and are are NOT guarantees.
Little Live Pets Lil' Dippers Bellariva Swimming Fish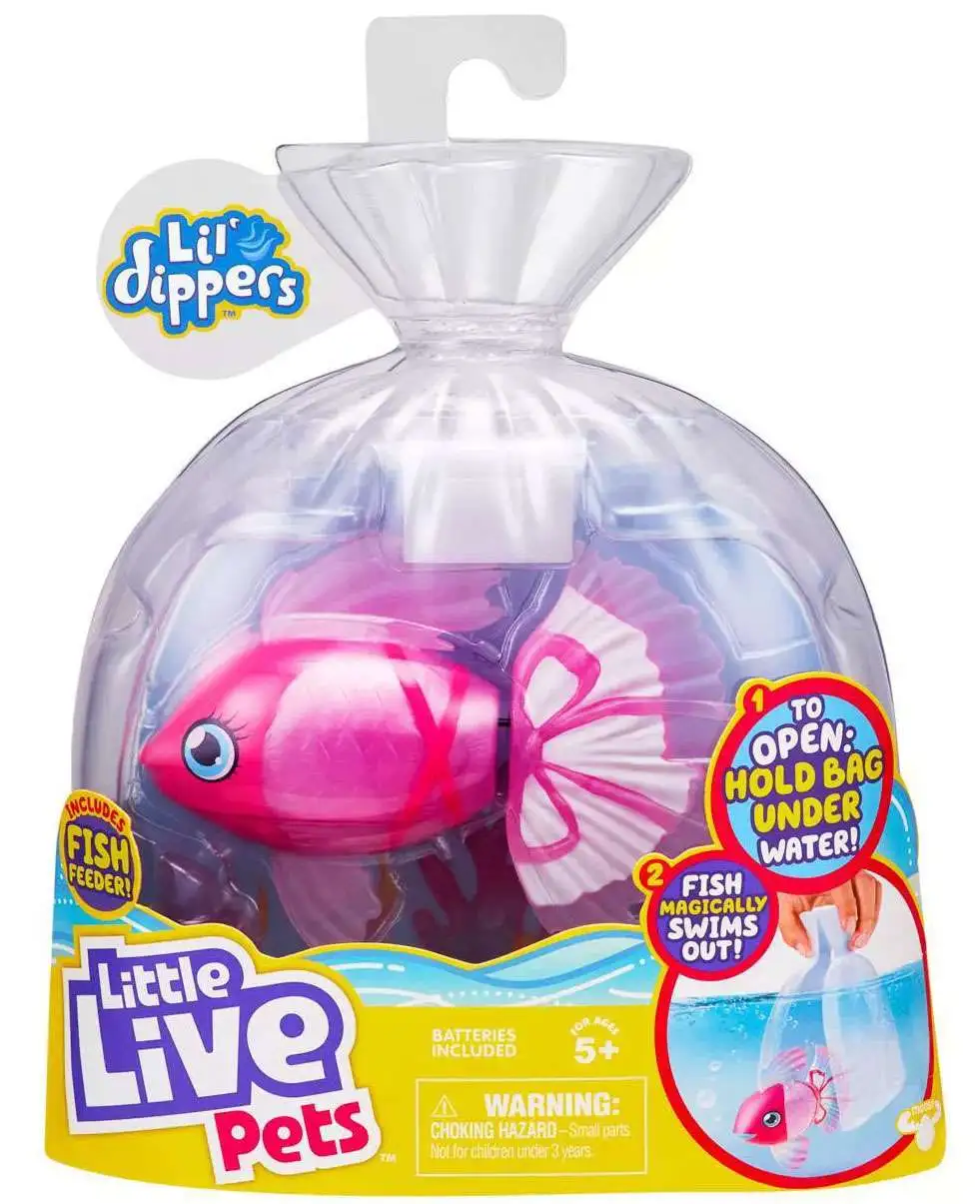 Little Live Pets Lil' Dippers Bellariva Swimming Fish
---
Availability:
Out of Stock
---
NOTIFY ME WHEN AVAILABLE!
We will not use your email for any other purpose!
Email address submitted! You will be notified if and when this product is back in stock.
---
Bellariva is a Little Live Pets -Lil' Dipper who loves to swim and show off her fins! This beautiful fish has the most magical unboxing experience! Dip Bellariva's bag that she is packaged in into water. As the bag fills, the water activates this beautiful toy fish and she comes to life and swims out showing off her lovely tail and fins! Bellariva has the most amazing life-like movement as she swims about swishing her colorful tail and fins! Bellariva is a fabulous fish who's full of personality and sass. Each Lil' Dipper comes with a magical feeding bottle so you can interact with your fish. Watch as Bellariva swims towards it to feed. Bellariva is a ballet themed fish. Her elegant fins and tail gracefully move like a ribbon. There are 3 different Lil' Dippers to collect, each one beautifully themed to show their personality! Dive into the Dippers world. Its where aquatic meets exotic!

Includes:
1 x Fish
1 x Feeding Tool
1 x Instruction Manual
3 x LR44 Battery
---
---
See full description...
Product Description
Bellariva is a Little Live Pets -Lil' Dipper who loves to swim and show off her fins! This beautiful fish has the most magical unboxing experience! Dip Bellariva's bag that she is packaged in into water. As the bag fills, the water activates this beautiful toy fish and she comes to life and swims out showing off her lovely tail and fins! Bellariva has the most amazing life-like movement as she swims about swishing her colorful tail and fins! Bellariva is a fabulous fish who's full of personality and sass. Each Lil' Dipper comes with a magical feeding bottle so you can interact with your fish. Watch as Bellariva swims towards it to feed. Bellariva is a ballet themed fish. Her elegant fins and tail gracefully move like a ribbon. There are 3 different Lil' Dippers to collect, each one beautifully themed to show their personality! Dive into the Dippers world. Its where aquatic meets exotic!

Includes:
1 x Fish
1 x Feeding Tool
1 x Instruction Manual
3 x LR44 Battery
Product Description
Bellariva is a Little Live Pets -Lil' Dipper who loves to swim and show off her fins! This beautiful fish has the most magical unboxing experience! Dip Bellariva's bag that she is packaged in into water. As the bag fills, the water activates this beautiful toy fish and she comes to life and swims out showing off her lovely tail and fins! Bellariva has the most amazing life-like movement as she swims about swishing her colorful tail and fins! Bellariva is a fabulous fish who's full of personality and sass. Each Lil' Dipper comes with a magical feeding bottle so you can interact with your fish. Watch as Bellariva swims towards it to feed. Bellariva is a ballet themed fish. Her elegant fins and tail gracefully move like a ribbon. There are 3 different Lil' Dippers to collect, each one beautifully themed to show their personality! Dive into the Dippers world. Its where aquatic meets exotic!

Includes:
1 x Fish
1 x Feeding Tool
1 x Instruction Manual
3 x LR44 Battery