🎁 HOLIDAY SHIPPING SCHEDULE 📦
▶
For STANDARD delivery by Saturday, 12/24*
Order by Monday 12/19, 11:59pm
Order by Friday 12/16, 11:59pm
Order by Thursday 12/15, 11:59pm
Order by Wednesday 12/14, 11:59pm
For RUSH delivery by Saturday, 12/24*
Order by Tuesday 12/20, 11:59pm
Order by Tuesday 12/20, 11:59pm
Order by Tuesday 12/20, 11:59pm
Order by Tuesday 12/20, 11:59pm
* Please note these dates are best estimates for when you should order by and are are NOT guarantees.
Transformers GI Joe V.A.M.P. Hound & Skystriker Jetfire Exclusive Action Figure Set
has successfully been added to your cart!
Continue Shopping
View Shopping Cart
Checkout
Transformers GI Joe V.A.M.P. Hound & Skystriker Jetfire Exclusive Action Figure Set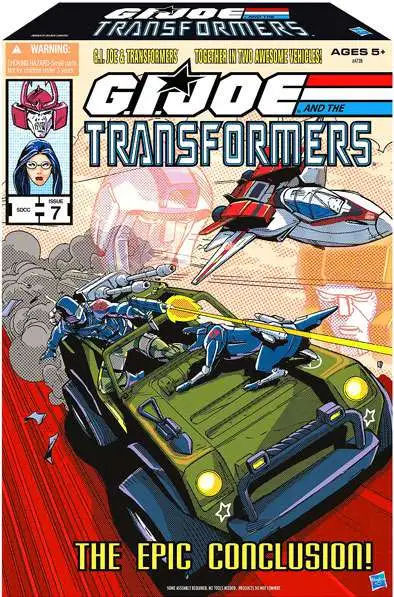 ❮
❯
Transformers GI Joe V.A.M.P. Hound & Skystriker Jetfire Exclusive Action Figure Set
---
Availability:
Out of Stock
---
NOTIFY ME WHEN AVAILABLE!
We will not use your email for any other purpose!
Email address submitted! You will be notified if and when this product is back in stock.
---
Description
Details
Our Guarantees
Visit Our Store!
The packaging of the G.I Joe/Transformers mash-up exclusive is even a throwback it pays homage to a 1980s comic-book miniseries.
An old-school G.I. Joe V.A.M.P. vehicle is retooled in the deco of Autobot cult fave Hound, originally an Army Jeep in the cartoon.
The set stars a G.I. Joe Skystriker with a paint job inspired by the Autobot, Jetfire.
No G.I. Joe set is complete without the resident ninja commando Snake Eyes this time sporting an Autobot logo on his outfit.
If youre so inclined, you can have the Cobra femme fatale Baroness take Decepticon Ravage out for a walk.
The Decepticon character Bludgeon inspired this action figure of a robotic samurai warrior with a skeleton head.
The Autobot Blaster and his tapes shows up in the set in his boom-box form. (Kids, ask your parents what a boom box is.)
Our Guarantees to You, Our Valued Customer!
We Guarantee you a safe and secure shopping experience.
We Guarantee you everything sold on Toywiz is 100% genuine, authentic and licensed merchandise
We Guarantee you 100% satisfaction. if you are not completely satisfied you have 30 days to return any unopened product and get a full refund.
We Guarantee you we will ship your product within one business day of your order being confirmed.
We Guarantee you will be a happy customer!
Please Come Visit Us!

If you are in the New York area, please come visit our newly renovated, state of the art 3,000 square foot retail store. Fully stocked with all your favorite toys, trading card games, sports cards & more. Pokemon, Magic the Gathering, YuGiOh, Star Wars, Transformers, Marvel Legends, we have it all! If you are looking for something specific, or are coming from a long distance away, please call ahead of time for our hours and also to arrange to have what you are looking for in stock and available. We look forward to seeing you!

ToyWiz Store
347 West Route 59
Nanuet NY 10954
845-624-2224
See full description...
Product Description
The packaging of the G.I Joe/Transformers mash-up exclusive is even a throwback it pays homage to a 1980s comic-book miniseries.
An old-school G.I. Joe V.A.M.P. vehicle is retooled in the deco of Autobot cult fave Hound, originally an Army Jeep in the cartoon.
The set stars a G.I. Joe Skystriker with a paint job inspired by the Autobot, Jetfire.
No G.I. Joe set is complete without the resident ninja commando Snake Eyes this time sporting an Autobot logo on his outfit.
If youre so inclined, you can have the Cobra femme fatale Baroness take Decepticon Ravage out for a walk.
The Decepticon character Bludgeon inspired this action figure of a robotic samurai warrior with a skeleton head.
The Autobot Blaster and his tapes shows up in the set in his boom-box form. (Kids, ask your parents what a boom box is.)
Related Products
Product Description
The packaging of the G.I Joe/Transformers mash-up exclusive is even a throwback it pays homage to a 1980s comic-book miniseries.
An old-school G.I. Joe V.A.M.P. vehicle is retooled in the deco of Autobot cult fave Hound, originally an Army Jeep in the cartoon.
The set stars a G.I. Joe Skystriker with a paint job inspired by the Autobot, Jetfire.
No G.I. Joe set is complete without the resident ninja commando Snake Eyes this time sporting an Autobot logo on his outfit.
If youre so inclined, you can have the Cobra femme fatale Baroness take Decepticon Ravage out for a walk.
The Decepticon character Bludgeon inspired this action figure of a robotic samurai warrior with a skeleton head.
The Autobot Blaster and his tapes shows up in the set in his boom-box form. (Kids, ask your parents what a boom box is.)