Disney Encanto We Don't Talk About Bruno 3-Inch 7-Piece Mini Doll Playset [Mirabel, Pepa, Felix, Dolores, Camilo, Isabela & Bruno] (Pre-Order ships October)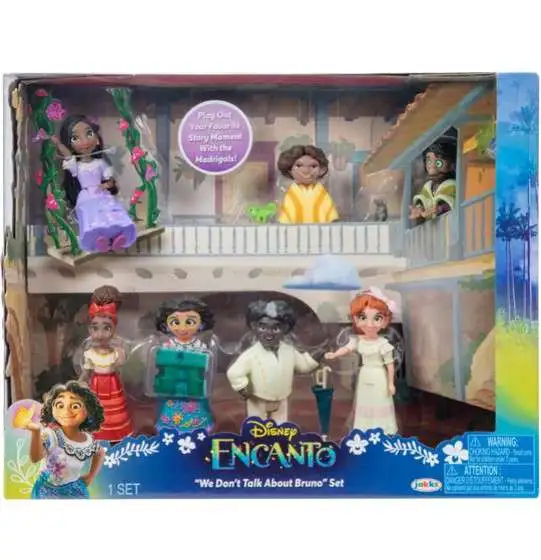 Disney Encanto We Don't Talk About Bruno 3-Inch 7-Piece Mini Doll Playset [Mirabel, Pepa, Felix, Dolores, Camilo, Isabela & Bruno] (Pre-Order ships October)
---
Availability:
Pre-Order
What is a Pre-Order?
A Pre-Order is an item that has not yet been released by the manufacturer, but is available to be ordered in advance.
Pre-Ordering an item is a great way to guarantee yourself a place in line, as we ship on a first come first serve basis.
The expected ship month listed in the title is an estimate based on the manufacturer's schedule. It is the most accurate information we have, but not necessarily a guarantee.
If you use a Credit Card, you will have the option to be charged now, or charged when the item is ready to ship.
If you use Amazon, your card will be authorized now, but will not be charged until the item is ready to ship.
You can cancel your pre-order any time before the item ships, for any reason, with no penalty.
For more information about Pre-Orders click here.
---
Company:
Jakks Pacific
Brand:
Disney
Item Type:
7-Piece Mini Doll Playset
Status:
Pre-Order
Category:
Disney
Encanto
Stock #:
409482
---
---
Product Highlights
FROM DISNEYS ENCANTO MOVIE: Inspired by Disneys Encanto! Relive your favorite scenes and story moments!RECREATE YOUR FAVORITE SCENES: Set includes Mirabel, Pepa, Felix, Dolores, Camilo, Isabela, and Bruno!STORYTELLING ACCESSORIES: Play out the iconic scene with Brunos vision, Felixs umbrella, a flower for Isabela, a chameleon for Camilo, and Brunos rat friend!3 TALL, PERFECT FOR ON-THE-GO PLAY: Dolls stand at 3 tall, and are articulated at the shoulders and hips to pose and play out your favorite Encanto scenes!Includes: 7 Dolls, 2 Ponchos, 4 Accessories, 1 Chip Vision PieceSuggested for Ages 3+ (small parts)
See full description...
Product Description
Walt Disney Animation Studios 60th feature, Encanto, tells the tale of an extraordinary family, the Madrigals, who live hidden in the mountains of Colombia, in a magical house, in a vibrant town, in a wondrous, charmed place called an Encanto. The magic of the Encanto has blessed every child in the family with a unique gift from super strength to the power to healevery child except one, Mirabel. But when she discovers that the magic surrounding the Encanto is in danger, Mirabel decides that she, the only ordinary Madrigal, might just be her exceptional familys last hope.
FROM DISNEYS ENCANTO MOVIE: Inspired by Disneys Encanto! Relive your favorite scenes and story moments!
RECREATE YOUR FAVORITE SCENES: Set includes Mirabel, Pepa, Felix, Dolores, Camilo, Isabela, and Bruno!
STORYTELLING ACCESSORIES: Play out the iconic scene with Brunos vision, Felixs umbrella, a flower for Isabela, a chameleon for Camilo, and Brunos rat friend!
3 TALL, PERFECT FOR ON-THE-GO PLAY: Dolls stand at 3 tall, and are articulated at the shoulders and hips to pose and play out your favorite Encanto scenes!
Includes: 7 Dolls, 2 Ponchos, 4 Accessories, 1 Chip Vision Piece
Suggested for Ages 3+ (small parts)
Product Description
Walt Disney Animation Studios 60th feature, Encanto, tells the tale of an extraordinary family, the Madrigals, who live hidden in the mountains of Colombia, in a magical house, in a vibrant town, in a wondrous, charmed place called an Encanto. The magic of the Encanto has blessed every child in the family with a unique gift from super strength to the power to healevery child except one, Mirabel. But when she discovers that the magic surrounding the Encanto is in danger, Mirabel decides that she, the only ordinary Madrigal, might just be her exceptional familys last hope.
FROM DISNEYS ENCANTO MOVIE: Inspired by Disneys Encanto! Relive your favorite scenes and story moments!
RECREATE YOUR FAVORITE SCENES: Set includes Mirabel, Pepa, Felix, Dolores, Camilo, Isabela, and Bruno!
STORYTELLING ACCESSORIES: Play out the iconic scene with Brunos vision, Felixs umbrella, a flower for Isabela, a chameleon for Camilo, and Brunos rat friend!
3 TALL, PERFECT FOR ON-THE-GO PLAY: Dolls stand at 3 tall, and are articulated at the shoulders and hips to pose and play out your favorite Encanto scenes!
Includes: 7 Dolls, 2 Ponchos, 4 Accessories, 1 Chip Vision Piece
Suggested for Ages 3+ (small parts)