Pokemon Trading Card Game Sword & Shield Arceus VSTAR Exclusive Ultra Premium Collection Box [15 Booster Packs, 2 Metal Cards & More] (Pre-Order ships January)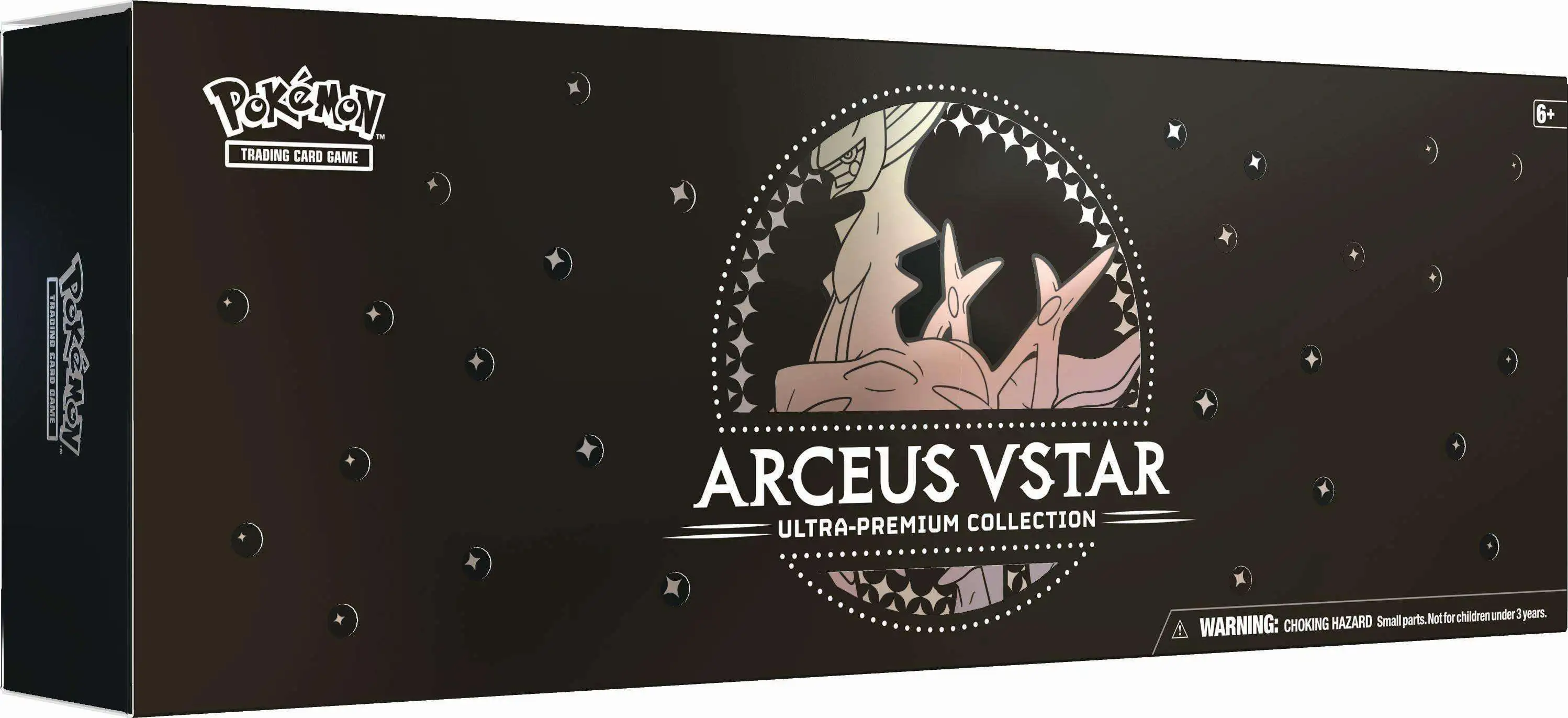 Pokemon Trading Card Game Sword & Shield Arceus VSTAR Exclusive Ultra Premium Collection Box [15 Booster Packs, 2 Metal Cards & More] (Pre-Order ships January)
---
Availability:
Pre-Order
What is a Pre-Order?
A Pre-Order is an item that has not yet been released by the manufacturer, but is available to be ordered in advance.
Pre-Ordering an item is a great way to guarantee yourself a place in line, as we ship on a first come first serve basis.
The expected ship month listed in the title is an estimate based on the manufacturer's schedule. It is the most accurate information we have, but not necessarily a guarantee.
If you use a Credit Card, you will have the option to be charged now, or charged when the item is ready to ship.
If you use Amazon, your card will be authorized now, but will not be charged until the item is ready to ship.
You can cancel your pre-order any time before the item ships, for any reason, with no penalty.
For more information about Pre-Orders click here.
---
Company:
Pokemon USA
Brand:
Pokemon
Series:
Sword & Shield
Item Type:
Ultra Premium Collection Box
Status:
Pre-Order
Category:
Pokemon
Special Editions
Premium Collection
Stock #:
409649
---
---
Product Highlights
Show Your Mettle with the Arceus VSTAR Ultra-Premium Collection! From the nothingness of the void came the cry of the Alpha Pokémon....Arceus is ready to shine in this special Ultra-Premium Collection starring Arceus V and Arceus VSTAR as pure metal cards! With a whopping stack of 15 booster packs, metal damage counter dice, an Arceus playmat and many more treasures--this curated set has whit it takes to ring gameplay to mythical new levels.
See full description...
Product Description
Show Your Mettle with the Arceus VSTAR Ultra-Premium Collection! From the nothingness of the void came the cry of the Alpha Pokémon....Arceus is ready to shine in this special Ultra-Premium Collection starring Arceus V and Arceus VSTAR as pure metal cards! With a whopping stack of 15 booster packs, metal damage counter dice, an Arceus playmat and many more treasures--this curated set has whit it takes to ring gameplay to mythical new levels.
15 Pokémon TCG booster packs
1 metal card featuring Arceus V
1 metal card featuring Arceus VSTAR
1 playmat featuring Arceus
1 metal coin featuring Arceus
6 metal damage counter dice
1 acrylic VSTAR marker
A code card for Pokémon TCG Live
Product Description
Show Your Mettle with the Arceus VSTAR Ultra-Premium Collection! From the nothingness of the void came the cry of the Alpha Pokémon....Arceus is ready to shine in this special Ultra-Premium Collection starring Arceus V and Arceus VSTAR as pure metal cards! With a whopping stack of 15 booster packs, metal damage counter dice, an Arceus playmat and many more treasures--this curated set has whit it takes to ring gameplay to mythical new levels.
15 Pokémon TCG booster packs
1 metal card featuring Arceus V
1 metal card featuring Arceus VSTAR
1 playmat featuring Arceus
1 metal coin featuring Arceus
6 metal damage counter dice
1 acrylic VSTAR marker
A code card for Pokémon TCG Live