Ultra Pro Pokemon Trading Card Game 25th Celebration Wooden Deck Box (Pre-Order ships November)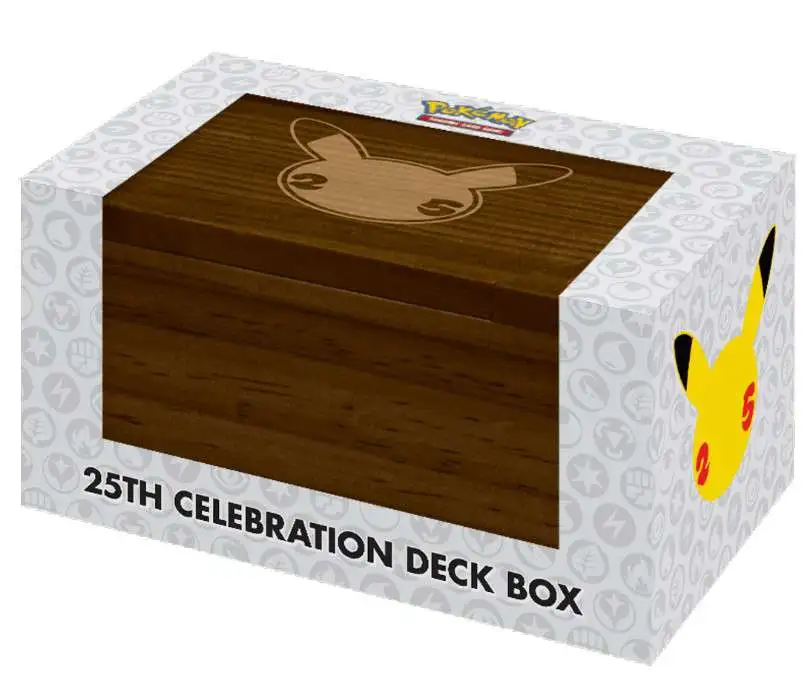 Ultra Pro Pokemon Trading Card Game 25th Celebration Wooden Deck Box (Pre-Order ships November)
---
Availability:
Pre-Order
estimated ship date November 2022
What is a Pre-Order?
A Pre-Order is an item that has not yet been released by the manufacturer, but is available to be ordered in advance.
Pre-Ordering an item is a great way to guarantee yourself a place in line, as we ship on a first come first serve basis.
The expected ship month listed in the title is an estimate based on the manufacturer's schedule. It is the most accurate information we have, but not necessarily a guarantee.
If you use a Credit Card, you will have the option to be charged now, or charged when the item is ready to ship.
If you use Amazon, your card will be authorized now, but will not be charged until the item is ready to ship.
You can cancel your pre-order any time before the item ships, for any reason, with no penalty.
For more information about Pre-Orders click here.
---
Handmade wood deck box with laser-etched 25th Celebration Pokémon Logo. Holds 100+ double-sleeved cards in Ultra PRO Deck Protector sleeves. Has rollout side dice compartment. Thumb notch for easy access to cards and secure magnetic closure. (Cards, sleeves and dice not included)
Officially licensed wooden deck box with laser-etched commemorative design for Pokémon 25th Celebration
Holds 100+ double-sleeved cards
Made from premium dark wood with a smooth surfaced swing-door lid
Secure magnetic enclosure
Rollout side dice compartment
---
---
See full description...
Product Description
Handmade wood deck box with laser-etched 25th Celebration Pokémon Logo. Holds 100+ double-sleeved cards in Ultra PRO Deck Protector sleeves. Has rollout side dice compartment. Thumb notch for easy access to cards and secure magnetic closure. (Cards, sleeves and dice not included)
Officially licensed wooden deck box with laser-etched commemorative design for Pokémon 25th Celebration
Holds 100+ double-sleeved cards
Made from premium dark wood with a smooth surfaced swing-door lid
Secure magnetic enclosure
Rollout side dice compartment
Product Description
Handmade wood deck box with laser-etched 25th Celebration Pokémon Logo. Holds 100+ double-sleeved cards in Ultra PRO Deck Protector sleeves. Has rollout side dice compartment. Thumb notch for easy access to cards and secure magnetic closure. (Cards, sleeves and dice not included)
Officially licensed wooden deck box with laser-etched commemorative design for Pokémon 25th Celebration
Holds 100+ double-sleeved cards
Made from premium dark wood with a smooth surfaced swing-door lid
Secure magnetic enclosure
Rollout side dice compartment