YuGiOh Trading Card Game Dragunity Legion (Unlimited) Structure Deck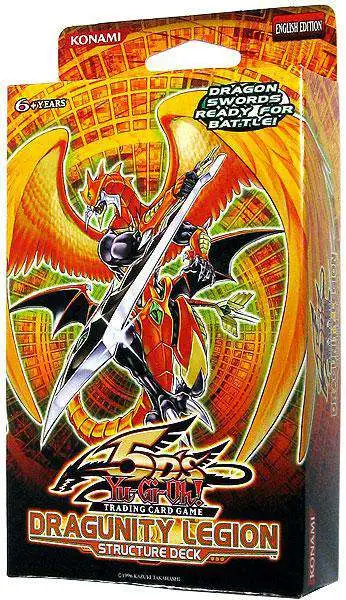 YuGiOh Trading Card Game Dragunity Legion (Unlimited) Structure Deck
---
Availability:
Out of Stock
---
NOTIFY ME WHEN AVAILABLE!
We will not use your email for any other purpose!
Email address submitted! You will be notified if and when this product is back in stock.
---
---
Travel back in time to Ancient Rome, and Duel using Dragons like youve never seen before!Dragunity monsters are more than just Dragons.There actually living weapons!Your biggest Dragunity monsters can pick up your smaler ones,and use them in Battle.Swords are great,but Dragon swords are even better.

Each Structure Deck: Dragunity Legion contains 40 cards in total. The number of card of each rarity are as follows:
1 Ultra Rare
2 Super Rares
37 Commons
---
---
Product Highlights
Unlimited Edition
Contains 40 cards
See full description...
Product Description
Travel back in time to Ancient Rome, and Duel using Dragons like youve never seen before!Dragunity monsters are more than just Dragons.There actually living weapons!Your biggest Dragunity monsters can pick up your smaler ones,and use them in Battle.Swords are great,but Dragon swords are even better.

Each Structure Deck: Dragunity Legion contains 40 cards in total. The number of card of each rarity are as follows:
1 Ultra Rare
2 Super Rares
37 Commons
Product Description
Travel back in time to Ancient Rome, and Duel using Dragons like youve never seen before!Dragunity monsters are more than just Dragons.There actually living weapons!Your biggest Dragunity monsters can pick up your smaler ones,and use them in Battle.Swords are great,but Dragon swords are even better.

Each Structure Deck: Dragunity Legion contains 40 cards in total. The number of card of each rarity are as follows:
1 Ultra Rare
2 Super Rares
37 Commons