YuGiOh Trading Card Game Saga of Blue-Eyes White Dragon Structure Deck [2022 Version, 41 Cards] (Pre-Order ships October)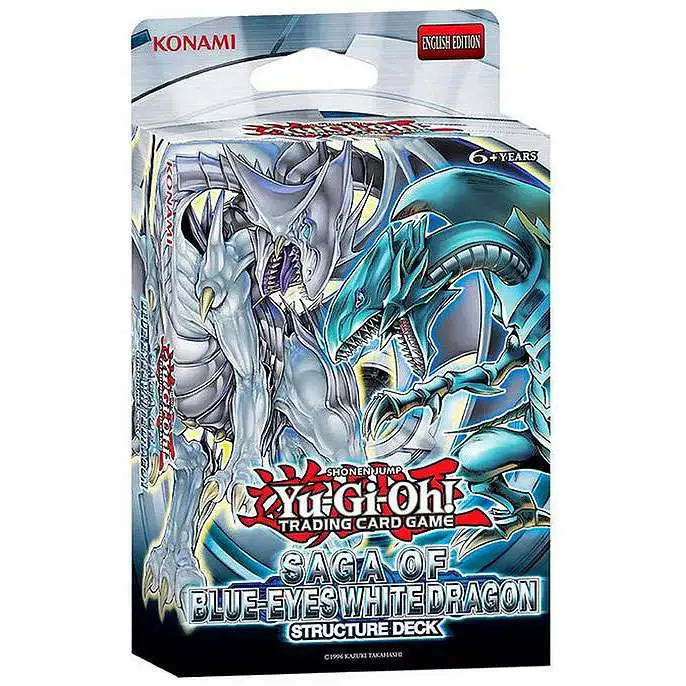 YuGiOh Trading Card Game Saga of Blue-Eyes White Dragon Structure Deck [2022 Version, 41 Cards] (Pre-Order ships October)
---
Availability:
Pre-Order
What is a Pre-Order?
A Pre-Order is an item that has not yet been released by the manufacturer, but is available to be ordered in advance.
Pre-Ordering an item is a great way to guarantee yourself a place in line, as we ship on a first come first serve basis.
The expected ship month listed in the title is an estimate based on the manufacturer's schedule. It is the most accurate information we have, but not necessarily a guarantee.
If you use a Credit Card, you will have the option to be charged now, or charged when the item is ready to ship.
If you use Amazon, your card will be authorized now, but will not be charged until the item is ready to ship.
If you use PayPal, you will be charged for the items when you place your order.
You can cancel your pre-order any time before the item ships, for any reason, with no penalty.
For more information about Pre-Orders click here.
---
Company:
Konami
Brand:
YuGiOh
Item Type:
Structure Deck
Status:
Pre-Order
Category:
YuGiOh
Starter & Structure Decks
Stock #:
405592
---
---
Product Highlights
The YuGiOh Saga of Blue Eyes White Dragon Deck is built around the Blue-Eyes White Dragon card at its core.
Includes Azure-Eyes Silver Dragon!
37 Common Cards, 2 Ultra Rare Card, 2 Super Rare Cards
See full description...
Product Description
Nothing in the Yu-Gi-Oh! TRADING CARD GAME universe is as legendary as the Blue-Eyes White Dragon. From the earliest of times, Blue-Eyes was the most powerful monster rivaled by very few other monsters. Now the legend comes to crush opponents with its new powers!
Behold, the Saga of Blue-Eyes White Dragon Structure Deck built around the Blue-Eyes White Dragon card at its core. Thats not all, introducing Azure-Eyes Silver Dragon, a powerful new Synchro Monster whose impact is immeasurable. Never before has a Structure Deck
been released revolving around such an iconic card. Only the strong at heart have what it takes to wield this Deck to Victory.

Duelists can find additional synergy with cards from Judgment of the Light, Lord of the Tachyon Galaxy, and Cosmo Blazer booster sets!

This Structure Deck Contains: 37 Common Cards, 2 Ultra Rare Card, 2 Super Rare Cards, 1 Rulebook, 1 Game Mat, 1 Dueling Guide
Product Description
Nothing in the Yu-Gi-Oh! TRADING CARD GAME universe is as legendary as the Blue-Eyes White Dragon. From the earliest of times, Blue-Eyes was the most powerful monster rivaled by very few other monsters. Now the legend comes to crush opponents with its new powers!
Behold, the Saga of Blue-Eyes White Dragon Structure Deck built around the Blue-Eyes White Dragon card at its core. Thats not all, introducing Azure-Eyes Silver Dragon, a powerful new Synchro Monster whose impact is immeasurable. Never before has a Structure Deck
been released revolving around such an iconic card. Only the strong at heart have what it takes to wield this Deck to Victory.

Duelists can find additional synergy with cards from Judgment of the Light, Lord of the Tachyon Galaxy, and Cosmo Blazer booster sets!

This Structure Deck Contains: 37 Common Cards, 2 Ultra Rare Card, 2 Super Rare Cards, 1 Rulebook, 1 Game Mat, 1 Dueling Guide