5 Surprise Mini Brands! Foodie Mystery Pack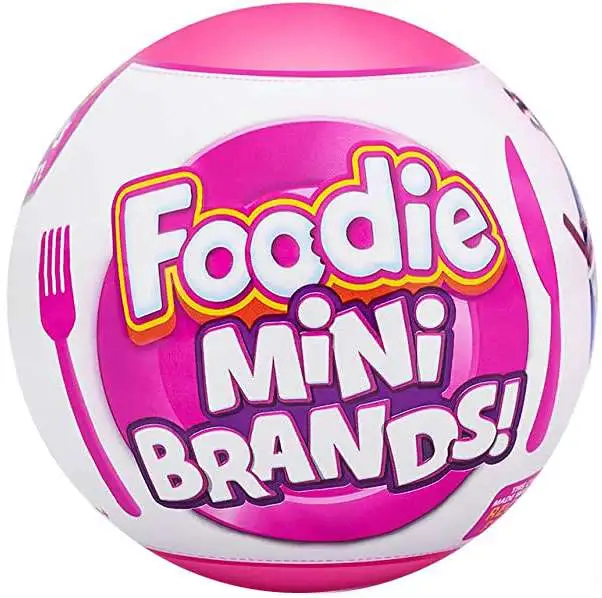 5 Surprise Mini Brands! Foodie Mystery Pack
Company:
Zuru Toys
Brand:
5 Surprise
Series:
Foodie
Item Type:
Mystery Pack
Release Date:
September 2022
Category:
5 Surprise
Stock #:
403531
UPC:
193052037435
---
---
Product Highlights
Zuru 5 Surprise Foodie Mini Brands are perfect replicas of your favorite fast-food brands in miniature!
The ultimate collectors item with over 60 minis to collect including ultra-rare frozen moments!
Unwrap, peel and reveal some of the biggest fast-food brands with Subway, TGI Fridays, Sonic and many more!
Each capsule includes up to 5 real surprise miniature collectables or 4 miniatures and a surprise shopping accessory.
See full description...
Product Description
Introducing all new Zuru 5 Surprise Foodie Mini Brands which are perfect replicas of your favourite fast-food brands in miniature! The ultimate collectors item with over 60 minis to collect including ultra-rare frozen moments!

Unwrap, peel and reveal some of the biggest fast-food brands with Subway, TGI Fridays, Sonic and many more! Which minis will you unbox? Each capsule includes up to 5 real surprise miniature collectables or 4 miniatures and a surprise shopping accessory.

Contents: 1 x 5 Surprise Foodie Mini Brands Mystery Capsule
Over 60 minis fast food brands to collect (each sold separately)
Including Subway, Sonic and TGI Fridays
Can you find the all-new frozen moments minis?
There are 4 to collect (each sold separately)
There are 8 cool accessories to collect
Including a soft drinks machine, ketchup dispenser and menus
Use your minis to build your own fast-food world
Collect them and tick off your collector's guide list as you go
Unwrap, peel and reveal 5 different surprises
Product Description
Introducing all new Zuru 5 Surprise Foodie Mini Brands which are perfect replicas of your favourite fast-food brands in miniature! The ultimate collectors item with over 60 minis to collect including ultra-rare frozen moments!

Unwrap, peel and reveal some of the biggest fast-food brands with Subway, TGI Fridays, Sonic and many more! Which minis will you unbox? Each capsule includes up to 5 real surprise miniature collectables or 4 miniatures and a surprise shopping accessory.

Contents: 1 x 5 Surprise Foodie Mini Brands Mystery Capsule
Over 60 minis fast food brands to collect (each sold separately)
Including Subway, Sonic and TGI Fridays
Can you find the all-new frozen moments minis?
There are 4 to collect (each sold separately)
There are 8 cool accessories to collect
Including a soft drinks machine, ketchup dispenser and menus
Use your minis to build your own fast-food world
Collect them and tick off your collector's guide list as you go
Unwrap, peel and reveal 5 different surprises