Disney Princess Animators' Collection Pocahontas Exclusive 16-Inch Doll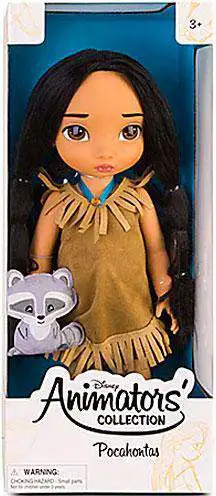 Disney Princess Animators' Collection Pocahontas Exclusive 16-Inch Doll
---
Availability:
Out of Stock
---
NOTIFY ME WHEN AVAILABLE!
We will not use your email for any other purpose!
Email address submitted! You will be notified if and when this product is back in stock.
---
Winner - Disney Family Fun Magazine 2011 Toy of the Year Award
Disney animator Glen Keane, who designed and supervised the animation of Pocahontas on screen, revisits the Native American Princess and shows us how she might look as a little girl who painted the ''colors of the wind.''
Pocahontas is outfitted in a faux suede dress with fringed trims
Jeweled satin ribbon necklace
Includes plush friend Meeko with embroidered features
Inspired by Disney's animated classic Pocahontas
Comes in collector's display box featuring character sketches by the animators
Plastic/polyester
16'' H
Ages 3+
Imported
Part of the Disney Animators' Collection, each doll sold separately
---
---
See full description...
Product Description
Winner - Disney Family Fun Magazine 2011 Toy of the Year Award
Disney animator Glen Keane, who designed and supervised the animation of Pocahontas on screen, revisits the Native American Princess and shows us how she might look as a little girl who painted the ''colors of the wind.''
Pocahontas is outfitted in a faux suede dress with fringed trims
Jeweled satin ribbon necklace
Includes plush friend Meeko with embroidered features
Inspired by Disney's animated classic Pocahontas
Comes in collector's display box featuring character sketches by the animators
Plastic/polyester
16'' H
Ages 3+
Imported
Part of the Disney Animators' Collection, each doll sold separately
Product Description
Winner - Disney Family Fun Magazine 2011 Toy of the Year Award
Disney animator Glen Keane, who designed and supervised the animation of Pocahontas on screen, revisits the Native American Princess and shows us how she might look as a little girl who painted the ''colors of the wind.''
Pocahontas is outfitted in a faux suede dress with fringed trims
Jeweled satin ribbon necklace
Includes plush friend Meeko with embroidered features
Inspired by Disney's animated classic Pocahontas
Comes in collector's display box featuring character sketches by the animators
Plastic/polyester
16'' H
Ages 3+
Imported
Part of the Disney Animators' Collection, each doll sold separately