Disney Princess Deluxe 9-Piece PVC Figure Play Set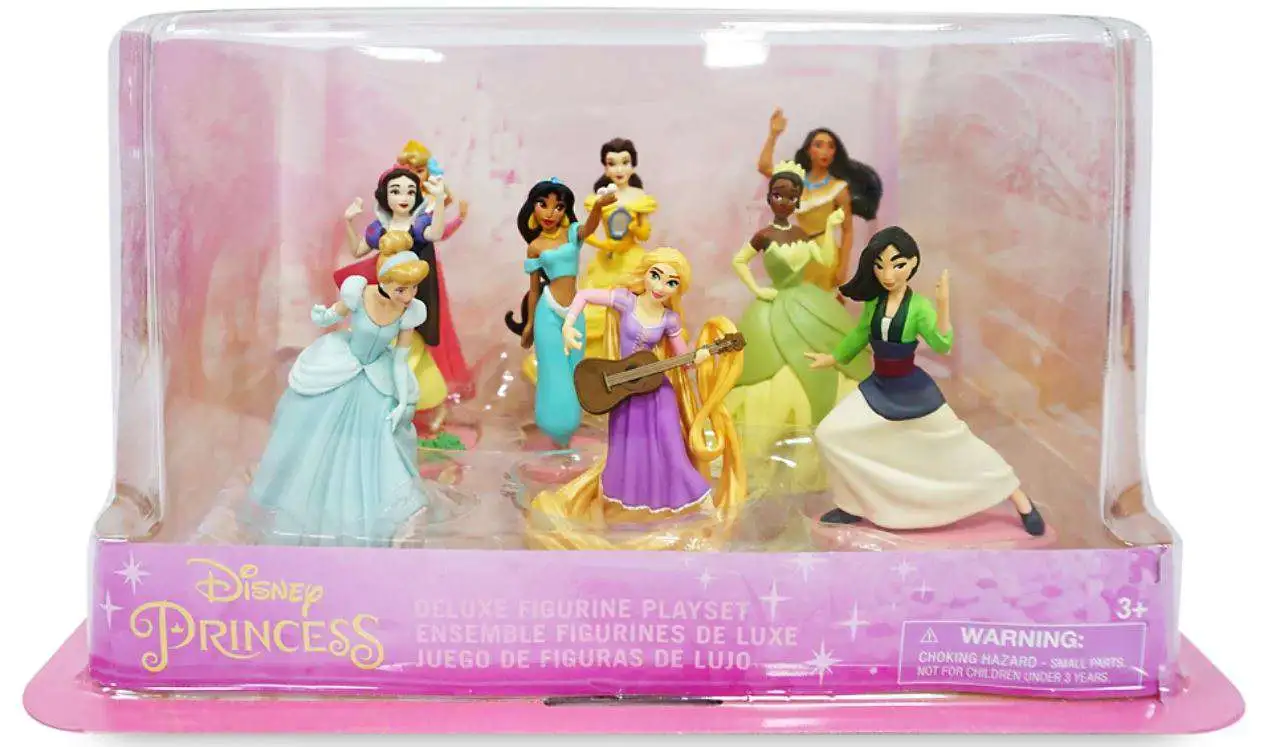 Disney Princess Deluxe 9-Piece PVC Figure Play Set
---
Availability:
Out of Stock
---
NOTIFY ME WHEN AVAILABLE!
We will not use your email for any other purpose!
Email address submitted! You will be notified if and when this product is back in stock.
---
Live happily ever after with 9 Disney Princess figurines in one deluxe set, ready to fill every castle and cottage with playtime fantasy. Glamorous ballgowns and costumes adorn our fairytale heroines as all their dreams come true!

Magic in the details
Set of nice fully sculpted figures:
Snow White with bluebird (Snow White and the Seven Dwarfs)

Cinderella in ballgown (Cinderella 1950)

Aurora in pink dress (Sleeping Beauty)

Belle in ballgown (Beauty and the Beast 1991)

Jasmine (Aladdin 1992)

Pocahontas (Pocahontas)

Mulan (Mulan 1998)

Tiana in carnivale gown (The Princess and the Frog)

Rapunzel with guitar (Tangled)

The bare necessities
Ages 3+
PVC
Figures up to approx. 4'' H
Package approx. 5'' H x 11 1/2'' W x 6 3/4'' D
Imported
---
---
See full description...
Product Description
Live happily ever after with 9 Disney Princess figurines in one deluxe set, ready to fill every castle and cottage with playtime fantasy. Glamorous ballgowns and costumes adorn our fairytale heroines as all their dreams come true!

Magic in the details
Set of nice fully sculpted figures:
Snow White with bluebird (Snow White and the Seven Dwarfs)

Cinderella in ballgown (Cinderella 1950)

Aurora in pink dress (Sleeping Beauty)

Belle in ballgown (Beauty and the Beast 1991)

Jasmine (Aladdin 1992)

Pocahontas (Pocahontas)

Mulan (Mulan 1998)

Tiana in carnivale gown (The Princess and the Frog)

Rapunzel with guitar (Tangled)

The bare necessities
Ages 3+
PVC
Figures up to approx. 4'' H
Package approx. 5'' H x 11 1/2'' W x 6 3/4'' D
Imported
Product Description
Live happily ever after with 9 Disney Princess figurines in one deluxe set, ready to fill every castle and cottage with playtime fantasy. Glamorous ballgowns and costumes adorn our fairytale heroines as all their dreams come true!

Magic in the details
Set of nice fully sculpted figures:
Snow White with bluebird (Snow White and the Seven Dwarfs)

Cinderella in ballgown (Cinderella 1950)

Aurora in pink dress (Sleeping Beauty)

Belle in ballgown (Beauty and the Beast 1991)

Jasmine (Aladdin 1992)

Pocahontas (Pocahontas)

Mulan (Mulan 1998)

Tiana in carnivale gown (The Princess and the Frog)

Rapunzel with guitar (Tangled)

The bare necessities
Ages 3+
PVC
Figures up to approx. 4'' H
Package approx. 5'' H x 11 1/2'' W x 6 3/4'' D
Imported