🎁 HOLIDAY SHIPPING SCHEDULE 📦
▶
For STANDARD delivery by Saturday, 12/24*
Order by Monday 12/19, 11:59pm
Order by Friday 12/16, 11:59pm
Order by Thursday 12/15, 11:59pm
Order by Wednesday 12/14, 11:59pm
For RUSH delivery by Saturday, 12/24*
Order by Tuesday 12/20, 11:59pm
Order by Tuesday 12/20, 11:59pm
Order by Tuesday 12/20, 11:59pm
Order by Tuesday 12/20, 11:59pm
* Please note these dates are best estimates for when you should order by and are are NOT guarantees.
Disney Toy Story DYN 8-CTION HEROES Woody Action Figure DAH-016
has successfully been added to your cart!
Continue Shopping
View Shopping Cart
Checkout
Disney Toy Story DYN 8-CTION HEROES Woody Action Figure DAH-016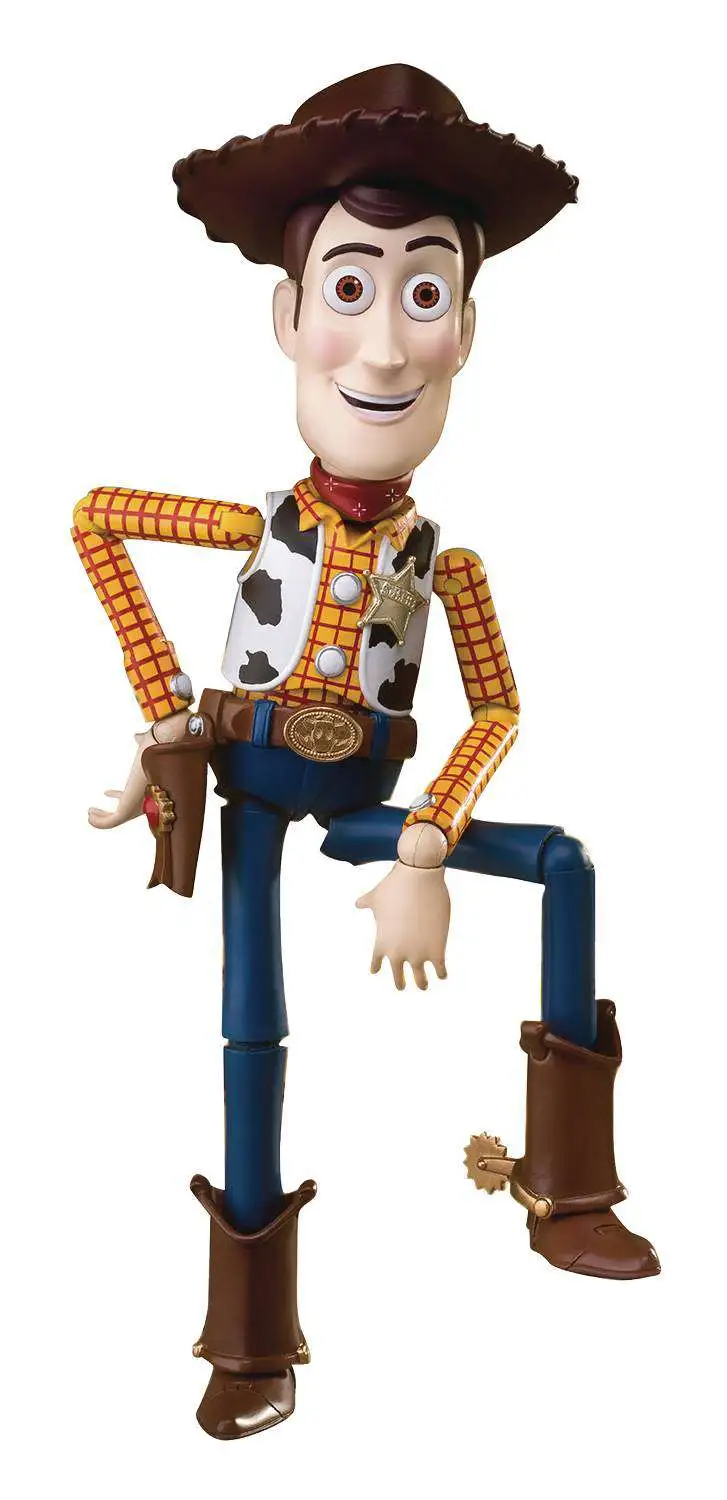 ❮
❯
Disney Toy Story DYN 8-CTION HEROES Woody Action Figure DAH-016
---
Availability:
Out of Stock
---
NOTIFY ME WHEN AVAILABLE!
We will not use your email for any other purpose!
Email address submitted! You will be notified if and when this product is back in stock.
---
Description
Details
Our Guarantees
Visit Our Store!
Product Description
Beast Kingdom warmly presents the first in the range of highly realistic Disney characters, continuing the Dynamic 8ction Heroes line of highly detailed figures. The DAH-016: Toy Story Woody action figure is a fully articulable Toy Story 3 re-creation of the warm-hearted cowboy! As Andy's favorite toy, Woody still bears his owners signature on the base of his articulable foot, making this 8inch action figure a real keepsake! Woody is always up to mischief however, so with 20 points of articulation and a replaceable Cowboy hat as well as pointy gunshot hands, he is able to quickly tell his foes to reach for the sky! Speaking of mischief, Woody's three replaceable faces, including one special version bearing a surprisingly cheeky grin, means collectors can have him ready for any fun day out with the Toy Story gang, including his best friend and ally Buzz! So don't miss you chance at getting this DAH Woody as well as the Space Ranger Buzz, the dynamic duo out to save all collectors' days and hearts!
Our Guarantees to You, Our Valued Customer!
We Guarantee you a safe and secure shopping experience.
We Guarantee you everything sold on Toywiz is 100% genuine, authentic and licensed merchandise
We Guarantee you 100% satisfaction. if you are not completely satisfied you have 30 days to return any unopened product and get a full refund.
We Guarantee you we will ship your product within one business day of your order being confirmed.
We Guarantee you will be a happy customer!
Visit Our Store
Please Come Visit Us!


If you are in the New York area, please come visit our newly renovated, state of the art 3,000 square foot retail store. Fully stocked with all your favorite toys, trading card games, sports cards & more. Pokemon, Magic the Gathering, YuGiOh, Star Wars, Transformers, Marvel Legends, we have it all! If you are looking for something specific, or are coming from a long distance away, please call ahead of time for our hours and also to arrange to have what you are looking for in stock and available. We look forward to seeing you!
ToyWiz Store
347 West Route 59
Nanuet NY 10954
845-624-2224