Disney Toy Story Pizza Planet Claw Exclusive Crossbody Bag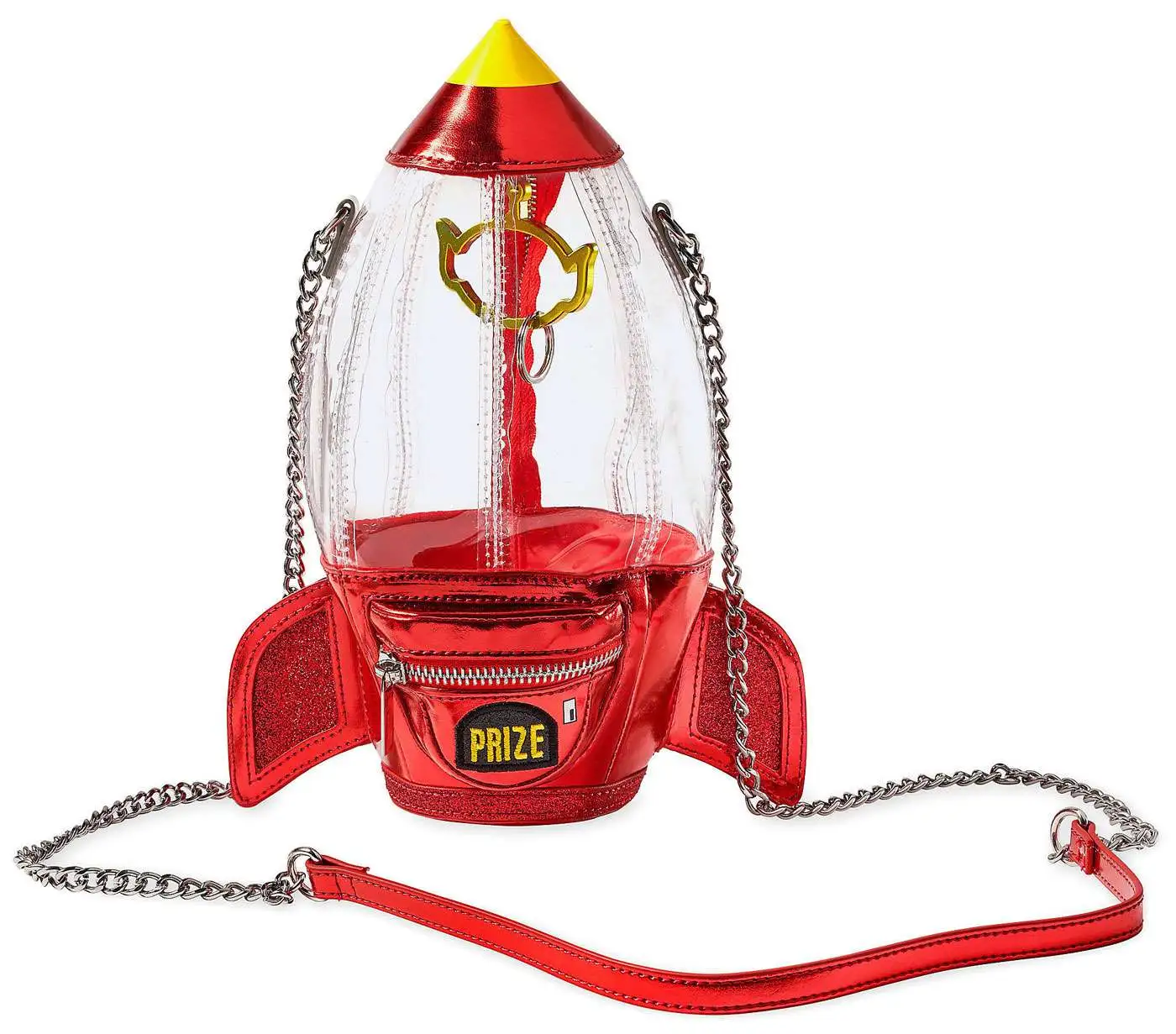 Disney Toy Story Pizza Planet Claw Exclusive Crossbody Bag
---
Availability:
Out of Stock
---
NOTIFY ME WHEN AVAILABLE!
We will not use your email for any other purpose!
Email address submitted! You will be notified if and when this product is back in stock.
---
Don't wait for the claw to choose you. Be fashion forward and choose our Pizza Planet claw machine crossbody bag featuring curb chain strap, red glitter accents, attached Alien carabiner and clear body. It's the perfect size for everything you prize.
Crossbody bag in the shape of rocket ship claw machine
Metallic red, yellow, and clear construction
Green space alien head-shaped carabiner attached inside, with removable keyring
Glitter accents
Small exterior pocket
''Prize'' applique with black glitter and embroidered detailing
Zip closure with metal pull
Metallic red shoulder strap attached by curb chain
---
---
See full description...
Product Description
Don't wait for the claw to choose you. Be fashion forward and choose our Pizza Planet claw machine crossbody bag featuring curb chain strap, red glitter accents, attached Alien carabiner and clear body. It's the perfect size for everything you prize.
Crossbody bag in the shape of rocket ship claw machine
Metallic red, yellow, and clear construction
Green space alien head-shaped carabiner attached inside, with removable keyring
Glitter accents
Small exterior pocket
''Prize'' applique with black glitter and embroidered detailing
Zip closure with metal pull
Metallic red shoulder strap attached by curb chain
Product Description
Don't wait for the claw to choose you. Be fashion forward and choose our Pizza Planet claw machine crossbody bag featuring curb chain strap, red glitter accents, attached Alien carabiner and clear body. It's the perfect size for everything you prize.
Crossbody bag in the shape of rocket ship claw machine
Metallic red, yellow, and clear construction
Green space alien head-shaped carabiner attached inside, with removable keyring
Glitter accents
Small exterior pocket
''Prize'' applique with black glitter and embroidered detailing
Zip closure with metal pull
Metallic red shoulder strap attached by curb chain