🎁 HOLIDAY SHIPPING SCHEDULE 📦
▶
For STANDARD delivery by Saturday, 12/24*
Order by Thursday 12/19, 11:59pm
Order by Thursday 12/16, 11:59pm
Order by Thursday 12/15, 11:59pm
Order by Thursday 12/14, 11:59pm
For RUSH delivery by Saturday, 12/24*
Order by Thursday 12/20, 11:59pm
Order by Thursday 12/20, 11:59pm
Order by Thursday 12/20, 11:59pm
Order by Thursday 12/20, 11:59pm
* Please note these dates are best estimates for when you should order by and are are NOT guarantees.
Garbage Pail Kids MLB Baseball 2022 Series 1 Keith Shore Stickers Pack [6 Cards] (Pre-Order ships August)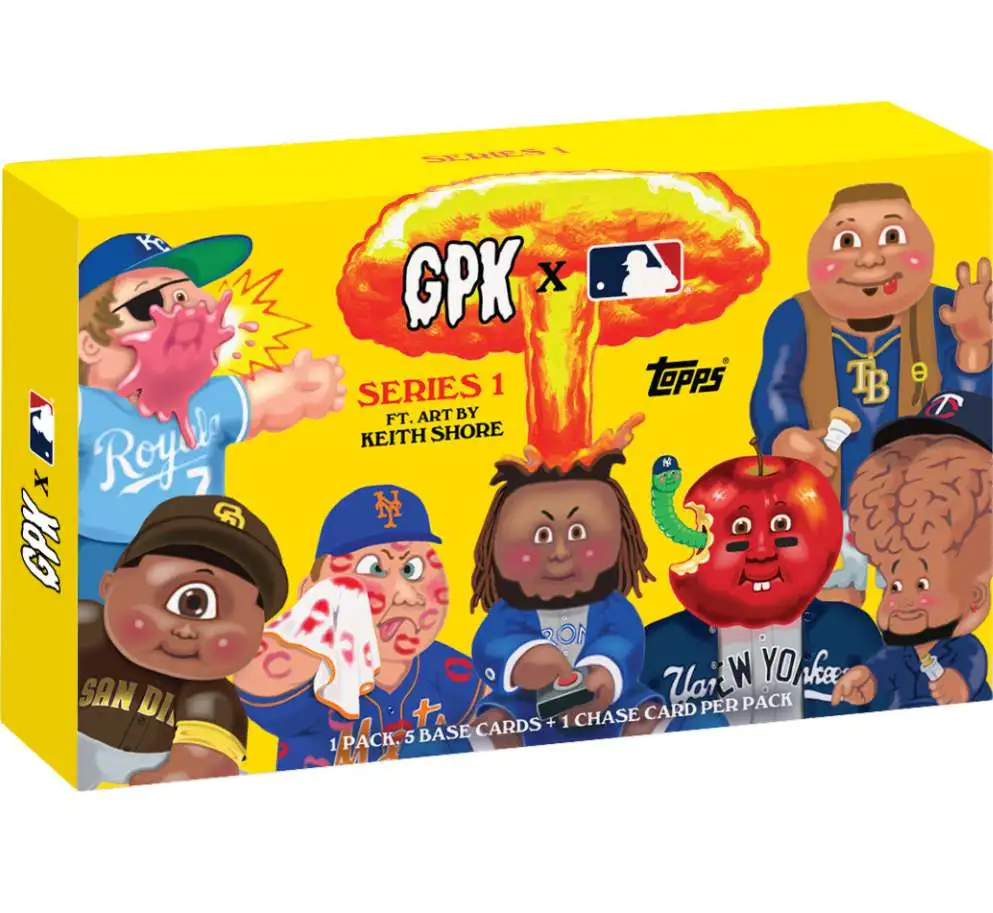 Garbage Pail Kids MLB Baseball 2022 Series 1 Keith Shore Stickers Pack [6 Cards] (Pre-Order ships August)
---
Availability:
Pre-Order
estimated ship date August 2023
What is a Pre-Order?
A Pre-Order is an item that has not yet been released by the manufacturer, but is available to be ordered in advance.
Pre-Ordering an item is a great way to guarantee yourself a place in line, as we ship on a first come first serve basis.
The expected ship month listed in the title is an estimate based on the manufacturer's schedule. It is the most accurate information we have, but not necessarily a guarantee.
If you use a Credit Card, you will have the option to be charged now, or charged when the item is ready to ship.
If you use Amazon, your card will be authorized now, but will not be charged until the item is ready to ship.
You can cancel your pre-order any time before the item ships, for any reason, with no penalty.
For more information about Pre-Orders click here.
---
Garbage Pail Kids meets Major League Baseball! Topps has tapped renowned artist Keith Shore to create a set of GPK characters inspired by your favorite MLB players. This incredibly unique collection is sold in packs of six cards, with a slew of parallels to collect.

Pack Configuration
6-cards per pack - 5 Base Cards, 1 Guaranteed Chase (Base Parallel, C Name Insert, or Autograph Keith Shore Card)

Set Configuration

Base Set (30 subjects) 15A and 15B Names

Checklist:

Aaron Judge
Pete Alonso
Juan Soto
Mike Trout
Wander Franco
Bobby Witt Jr
Hunter Greene
Ronald Acuna Jr
Albert Pujols
Julio Rodriguez
Manny Machado
Miguel Cabrera
Vladimir Guerrero Jr
Oneil Cruz
Byron Buxton

Base Card Parallels
/150 Silver Foil Border
/99 Rainbow Foil Border
/75 Green Foil Border
/50 Orange Foil Border
/25 Blue Foil Border
/10 Purple Foil Border
/5 Red Foil Border
/1 Gold Lava Foil Border

Inserts:
Keith Shore Portrait (A and B Name) 1:10
C Names - 15 subjects

Autographs:
Keith Shore Artist Autographs (A and B Name) 1:50
---
---
See full description...
Product Description
Garbage Pail Kids meets Major League Baseball! Topps has tapped renowned artist Keith Shore to create a set of GPK characters inspired by your favorite MLB players. This incredibly unique collection is sold in packs of six cards, with a slew of parallels to collect.

Pack Configuration
6-cards per pack - 5 Base Cards, 1 Guaranteed Chase (Base Parallel, C Name Insert, or Autograph Keith Shore Card)

Set Configuration

Base Set (30 subjects) 15A and 15B Names

Checklist:

Aaron Judge
Pete Alonso
Juan Soto
Mike Trout
Wander Franco
Bobby Witt Jr
Hunter Greene
Ronald Acuna Jr
Albert Pujols
Julio Rodriguez
Manny Machado
Miguel Cabrera
Vladimir Guerrero Jr
Oneil Cruz
Byron Buxton

Base Card Parallels
/150 Silver Foil Border
/99 Rainbow Foil Border
/75 Green Foil Border
/50 Orange Foil Border
/25 Blue Foil Border
/10 Purple Foil Border
/5 Red Foil Border
/1 Gold Lava Foil Border

Inserts:
Keith Shore Portrait (A and B Name) 1:10
C Names - 15 subjects

Autographs:
Keith Shore Artist Autographs (A and B Name) 1:50
Product Description
Garbage Pail Kids meets Major League Baseball! Topps has tapped renowned artist Keith Shore to create a set of GPK characters inspired by your favorite MLB players. This incredibly unique collection is sold in packs of six cards, with a slew of parallels to collect.

Pack Configuration
6-cards per pack - 5 Base Cards, 1 Guaranteed Chase (Base Parallel, C Name Insert, or Autograph Keith Shore Card)

Set Configuration

Base Set (30 subjects) 15A and 15B Names

Checklist:

Aaron Judge
Pete Alonso
Juan Soto
Mike Trout
Wander Franco
Bobby Witt Jr
Hunter Greene
Ronald Acuna Jr
Albert Pujols
Julio Rodriguez
Manny Machado
Miguel Cabrera
Vladimir Guerrero Jr
Oneil Cruz
Byron Buxton

Base Card Parallels
/150 Silver Foil Border
/99 Rainbow Foil Border
/75 Green Foil Border
/50 Orange Foil Border
/25 Blue Foil Border
/10 Purple Foil Border
/5 Red Foil Border
/1 Gold Lava Foil Border

Inserts:
Keith Shore Portrait (A and B Name) 1:10
C Names - 15 subjects

Autographs:
Keith Shore Artist Autographs (A and B Name) 1:50