🎁 HOLIDAY SHIPPING SCHEDULE 📦
▶
For STANDARD delivery by Saturday, 12/24*
Order by Monday 12/19, 11:59pm
Order by Friday 12/16, 11:59pm
Order by Thursday 12/15, 11:59pm
Order by Wednesday 12/14, 11:59pm
For RUSH delivery by Saturday, 12/24*
Order by Tuesday 12/20, 11:59pm
Order by Tuesday 12/20, 11:59pm
Order by Tuesday 12/20, 11:59pm
Order by Tuesday 12/20, 11:59pm
* Please note these dates are best estimates for when you should order by and are are NOT guarantees.
NECA Halo Master Chief's Motorcycle Helmet Roleplay Toy [Large (59-60cm)]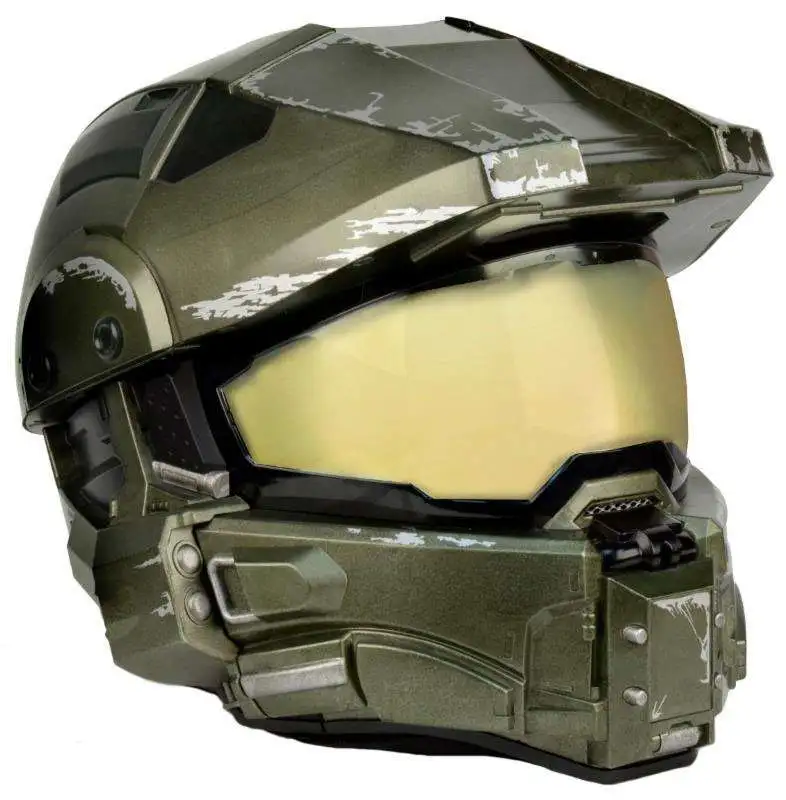 NECA Halo Master Chief's Motorcycle Helmet Roleplay Toy [Large (59-60cm)]
---
Availability:
Out of Stock
---
NOTIFY ME WHEN AVAILABLE!
We will not use your email for any other purpose!
Email address submitted! You will be notified if and when this product is back in stock.
---
Company:
NECA
Item Type:
Roleplay Toy
Brand:
Halo
Release Date:
July 2015
Stock #:
102577
UPC:
634882421949
From the award-winning Halo video games, this detailed replica of Master Chief's headgear is also a DOT-approved modular motorcycle helmet!
Master Chief Petty Officer John-117 is a central figure at the forefront of the war against the Covenant and rumored to be the lone survivor of the declassified SPARTAN-II project.
This limited edition helmet has a convenient modular design with glove-friendly opening mechanism and full list of features.
Exterior Features:
*Convenient modular design
*ABS shell with matte UV-protective clear coat
*Front air intakes reduce shield fogging; rear exhaust vents keep head cool and dry
*Reflective shield with UV protection
*Double D-ring nylon chin strap with snap secure
*Game-authentic deco
Interior Features:
*Contoured center pad with a design that allows heat to dissipate from the top of the scalp
*Dual-layer EPS cheek pads for a firm, comfortable fit
*Center pad and cheek pads are removable and washable
*Soft, moisture-wicking material
*Eyeglasses friendly interior
Additional Features:
*Meets or exceeds DOT standards (FMVSS 49 CFR 571.218)
*Nylon drawstring helmet bag included
*Limited Edition
---
---
See full description...
Product Description
From the award-winning Halo video games, this detailed replica of Master Chief's headgear is also a DOT-approved modular motorcycle helmet!
Master Chief Petty Officer John-117 is a central figure at the forefront of the war against the Covenant and rumored to be the lone survivor of the declassified SPARTAN-II project.
This limited edition helmet has a convenient modular design with glove-friendly opening mechanism and full list of features.
Exterior Features:
*Convenient modular design
*ABS shell with matte UV-protective clear coat
*Front air intakes reduce shield fogging; rear exhaust vents keep head cool and dry
*Reflective shield with UV protection
*Double D-ring nylon chin strap with snap secure
*Game-authentic deco
Interior Features:
*Contoured center pad with a design that allows heat to dissipate from the top of the scalp
*Dual-layer EPS cheek pads for a firm, comfortable fit
*Center pad and cheek pads are removable and washable
*Soft, moisture-wicking material
*Eyeglasses friendly interior
Additional Features:
*Meets or exceeds DOT standards (FMVSS 49 CFR 571.218)
*Nylon drawstring helmet bag included
*Limited Edition
Product Description
From the award-winning Halo video games, this detailed replica of Master Chief's headgear is also a DOT-approved modular motorcycle helmet!
Master Chief Petty Officer John-117 is a central figure at the forefront of the war against the Covenant and rumored to be the lone survivor of the declassified SPARTAN-II project.
This limited edition helmet has a convenient modular design with glove-friendly opening mechanism and full list of features.
Exterior Features:
*Convenient modular design
*ABS shell with matte UV-protective clear coat
*Front air intakes reduce shield fogging; rear exhaust vents keep head cool and dry
*Reflective shield with UV protection
*Double D-ring nylon chin strap with snap secure
*Game-authentic deco
Interior Features:
*Contoured center pad with a design that allows heat to dissipate from the top of the scalp
*Dual-layer EPS cheek pads for a firm, comfortable fit
*Center pad and cheek pads are removable and washable
*Soft, moisture-wicking material
*Eyeglasses friendly interior
Additional Features:
*Meets or exceeds DOT standards (FMVSS 49 CFR 571.218)
*Nylon drawstring helmet bag included
*Limited Edition