Pokemon Trading Card Game Diamond & Pearl Collector's Box [4 Booster Packs, 2 Promo Cards & Theme Deck!]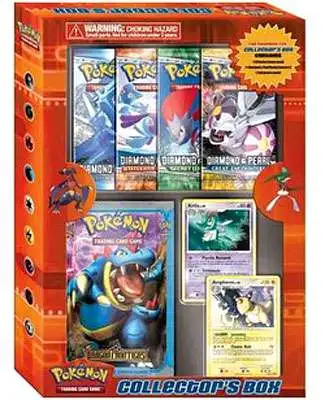 Pokemon Trading Card Game Diamond & Pearl Collector's Box [4 Booster Packs, 2 Promo Cards & Theme Deck!]
---
Availability:
Out of Stock
---
NOTIFY ME WHEN AVAILABLE!
We will not use your email for any other purpose!
Email address submitted! You will be notified if and when this product is back in stock.
---
---
Become the collector you always wanted to be when you open up the Pokemon trading card game collector's box! Including two special foil promo cards, the Pokemon TCG collector's box will bring out the collector, trainer, and player in you!
Includes 1 Random EX Series Theme Deck, 4 Diamond & Pearl Booster Packs & 2 Random Foil Promo Card
---
---
See full description...
Product Description
Become the collector you always wanted to be when you open up the Pokemon trading card game collector's box! Including two special foil promo cards, the Pokemon TCG collector's box will bring out the collector, trainer, and player in you!
Includes 1 Random EX Series Theme Deck, 4 Diamond & Pearl Booster Packs & 2 Random Foil Promo Card
Product Description
Become the collector you always wanted to be when you open up the Pokemon trading card game collector's box! Including two special foil promo cards, the Pokemon TCG collector's box will bring out the collector, trainer, and player in you!
Includes 1 Random EX Series Theme Deck, 4 Diamond & Pearl Booster Packs & 2 Random Foil Promo Card