🎁 HOLIDAY SHIPPING SCHEDULE 📦
▶
For STANDARD delivery by HANUKKAH LAST NIGHT - Thursday, 12/14*
Order by Monday 12/11, 11:59pm
Order by Friday 12/8, 11:59pm
Order by Thursday 12/7, 11:59pm
Order by Wednesday 12/6, 11:59pm
Order by Tuesday 12/5, 11:59pm
For RUSH delivery by HANUKKAH LAST NIGHT - Thursday, 12/14*
Order by Monday 12/11, 11:59pm
For STANDARD delivery by Saturday, 12/23*
Order by Tuesday 12/19, 11:59pm
Order by Monday 12/18, 11:59pm
Order by Friday 12/15, 11:59pm
Order by Thursday 12/14, 11:59pm
Order by Wednesday 12/13, 11:59pm
For RUSH delivery by Saturday, 12/23*
Order by Tuesday 12/19, 11:59pm
* Please note these dates are best estimates for when you should order by and are are NOT guarantees.
Polly Pocket Go Tiny! Room Playset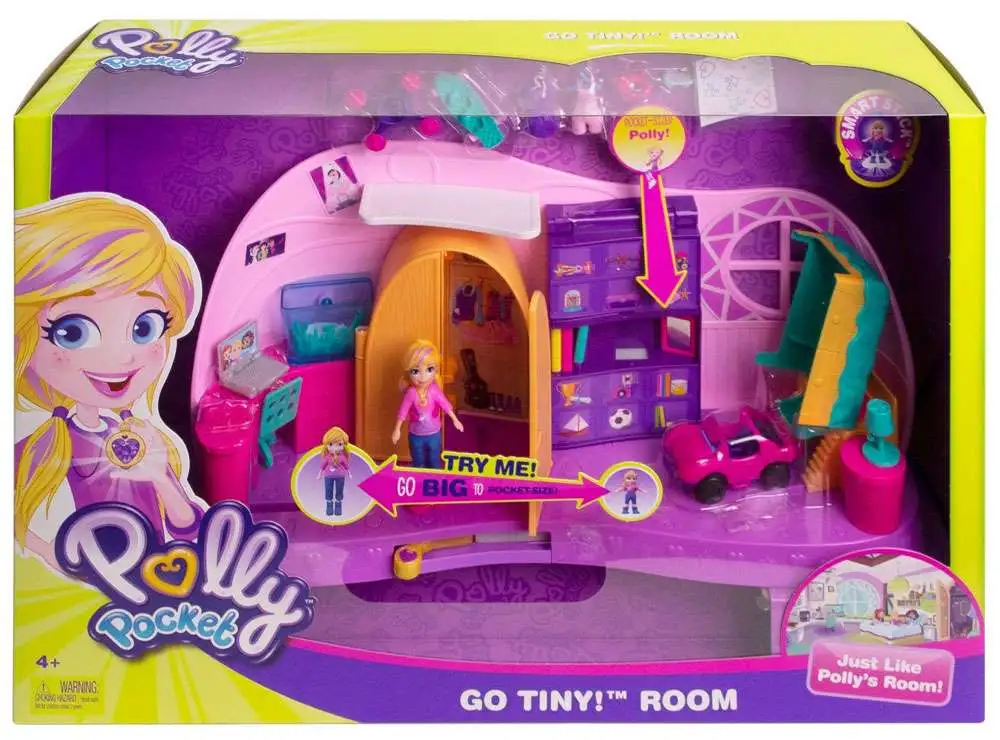 ❮
❯
Polly Pocket Go Tiny! Room Playset
---
Availability:
Out of Stock
---
NOTIFY ME WHEN AVAILABLE!
We will not use your email for any other purpose!
Email address submitted! You will be notified if and when this product is back in stock.
---
Description
Details
Our Guarantees
Visit Our Store!
Product Description
Get set to Go Tiny! with the Polly Pocket playset featuring Polly doll's room and all kinds of fun, secret surprises! First, open the playset to reveal play options and then "Go Tiny" by sliding the locket tab to reveal the micro play areas and surprisesincluding micro Polly doll. There's so much to explore: the closet reveals micro areas, you can splash in a pool, the desk reveals a concert stage, the bed hides a rock wall and a submarine emerges in the aquarium! There's no telling what can happen in Polly doll's room! There's also a quadcopter for a quick takeoff to adventure. Includes playset, 3-inch Polly doll, micro Polly doll and accessories. Colors and decorations may vary.
Our Guarantees to You, Our Valued Customer!
We Guarantee you a safe and secure shopping experience.
We Guarantee you everything sold on Toywiz is 100% genuine, authentic and licensed merchandise
We Guarantee you 100% satisfaction. if you are not completely satisfied you have 30 days to return any unopened product and get a full refund.
We Guarantee you we will ship your product within one business day of your order being confirmed.
We Guarantee you will be a happy customer!
Visit Our Store
Please Come Visit Us!


If you are in the New York area, please come visit our newly renovated, state of the art 3,000 square foot retail store. Fully stocked with all your favorite toys, trading card games, sports cards & more. Pokemon, Magic the Gathering, YuGiOh, Star Wars, Transformers, Marvel Legends, we have it all! If you are looking for something specific, or are coming from a long distance away, please call ahead of time for our hours and also to arrange to have what you are looking for in stock and available. We look forward to seeing you!
ToyWiz Store
347 West Route 59
Nanuet NY 10954
845-624-2224