Retro-Bit Tribute64 N64 Port Tribute Nintendo N64 Controller [Atomic Purple] (Pre-Order ships August)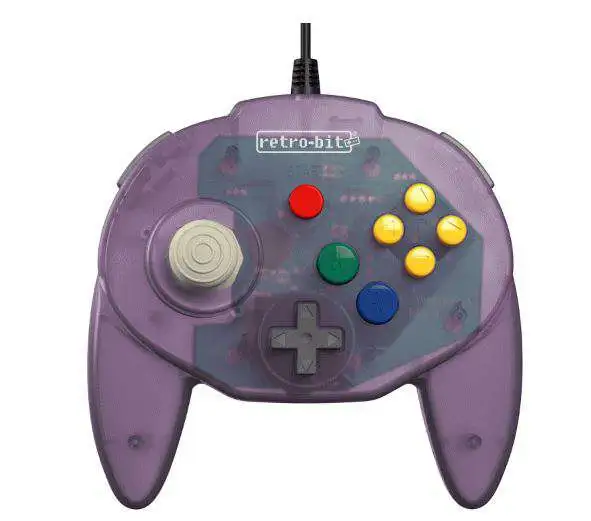 Retro-Bit Tribute64 N64 Port Tribute Nintendo N64 Controller [Atomic Purple] (Pre-Order ships August)
---
Availability:
Pre-Order
What is a Pre-Order?
A Pre-Order is an item that has not yet been released by the manufacturer, but is available to be ordered in advance.
Pre-Ordering an item is a great way to guarantee yourself a place in line, as we ship on a first come first serve basis.
The expected ship month listed in the title is an estimate based on the manufacturer's schedule. It is the most accurate information we have, but not necessarily a guarantee.
If you use a Credit Card, you will have the option to be charged now, or charged when the item is ready to ship.
If you use Amazon, your card will be authorized now, but will not be charged until the item is ready to ship.
If you use PayPal, you will be charged for the items when you place your order.
You can cancel your pre-order any time before the item ships, for any reason, with no penalty.
For more information about Pre-Orders click here.
---
Company:
Retro-Bit
Brand:
Retro-Bit
Item Type:
Tribute Nintendo N64 Controller
Status:
Pre-Order
Category:
Video Games
Retro Gaming Controllers & Accessories
Stock #:
322126
UPC:
849172012011
---
---
See full description...
Product Description
The Tribute 64 is part of Retro-bits Platinum Series of controllers dedicated to classic
retro gaming consoles. Designed for exclusive use on USB compatible systems, it
offers a versatile and retro feel for any genre of games.
Compatible with N64
10 foot cord
Sensitive, accurate, and high-quality analog stick
Dual Z shoulder pads for maximum grip
Ergonomic button layout with center D-pad
Memory card port and rumble pak port
Product Description
The Tribute 64 is part of Retro-bits Platinum Series of controllers dedicated to classic
retro gaming consoles. Designed for exclusive use on USB compatible systems, it
offers a versatile and retro feel for any genre of games.
Compatible with N64
10 foot cord
Sensitive, accurate, and high-quality analog stick
Dual Z shoulder pads for maximum grip
Ergonomic button layout with center D-pad
Memory card port and rumble pak port