YuGiOh Trading Card Game Dark World Structure Deck [46 Cards] (Pre-Order ships December)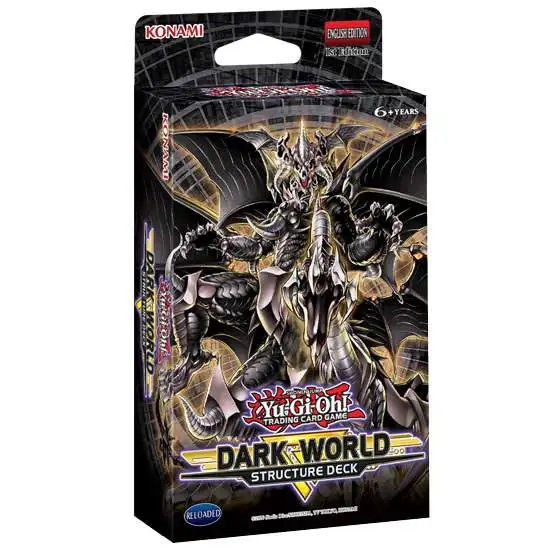 YuGiOh Trading Card Game Dark World Structure Deck [46 Cards] (Pre-Order ships December)
---
Availability:
Pre-Order
What is a Pre-Order?
A Pre-Order is an item that has not yet been released by the manufacturer, but is available to be ordered in advance.
Pre-Ordering an item is a great way to guarantee yourself a place in line, as we ship on a first come first serve basis.
The expected ship month listed in the title is an estimate based on the manufacturer's schedule. It is the most accurate information we have, but not necessarily a guarantee.
If you use a Credit Card, you will have the option to be charged now, or charged when the item is ready to ship.
If you use Amazon, your card will be authorized now, but will not be charged until the item is ready to ship.
If you use PayPal, you will be charged for the items when you place your order.
You can cancel your pre-order any time before the item ships, for any reason, with no penalty.
For more information about Pre-Orders click here.
---
Company:
Konami
Brand:
YuGiOh
Item Type:
Structure Deck
Status:
Pre-Order
Category:
YuGiOh
Starter & Structure Decks
Stock #:
404390
UPC:
---
---
Product Highlights
Darkness returns this winter with the brand-new Structure Deck: Dark World*!Grapha, Dragon Lord of Dark World first debuted in the game-shaking Structure Deck: Gates of the Underworld and its return is now nigh! Structure Deck: Dark World brings this notorious theme back to the human world with a slew of new features!
Reign-Beaux, Overlord of Dark World has received a promotion! This new form of Reign-Beaux Level 8 monster with 3000 ATK can Special Summon itself from the Graveyard (GY) simply by returning a Level 7 or lower Dark World monster from your field to your hand. If it is discarded to the GY, you can add a Level 5 or higher Dark World monster from your Deck to your hand, and if it was your opponent who forced you to discard, watch out
This new Structure Deck is playable right out of the box the Dark World army awaits you!Each Structure Deck contains:5 Ultra Rare Cards3 Super Rare Cards37 Common Cards1 Double-sided Deluxe Game Mat/Dueling Guide
See full description...
Product Description
Darkness returns this winter with the brand-new Structure Deck: Dark World*!
Grapha, Dragon Lord of Dark World first debuted in the game-shaking Structure Deck: Gates of the Underworld and its return is now nigh! Structure Deck: Dark World brings this notorious theme back to the human world with a slew of new features! Heres just some what you can expect:

Reign-Beaux, Overlord of Dark World has received a promotion! This new form of Reign-Beaux Level 8 monster with 3000 ATK can Special Summon itself from the Graveyard (GY) simply by returning a Level 7 or lower Dark World monster from your field to your hand. If it is discarded to the GY, you can add a Level 5 or higher Dark World monster from your Deck to your hand, and if it was your opponent who forced you to discard, watch out

Reign-Beaux isnt the only one whos been waiting for this day for over a decade! The great dragon lord Grapha has a brand-new form as well! The new Grapha is a Fusion Monster Summoned using Grapha, Dragon Lord of Dark World and any other DARK monster. You can Summon it with a new Spell Card that lets you Fusion Summon by discarding cards, triggering the effects of any Dark World monsters used as well as other powerful DARK monsters like the Danger! monsters. While this new Fusion Monster is on the field, you can hijack an opponents Normal Spell/Trap Card or monster effect, turning it into a discard effect that unleashes your Dark World monsters true power!

This new Structure Deck is playable right out of the box the Dark World army awaits you!

Each Structure Deck contains:

5 Ultra Rare Cards
3 Super Rare Cards
37 Common Cards
1 Double-sided Deluxe Game Mat/Dueling Guide
Product Description
Darkness returns this winter with the brand-new Structure Deck: Dark World*!
Grapha, Dragon Lord of Dark World first debuted in the game-shaking Structure Deck: Gates of the Underworld and its return is now nigh! Structure Deck: Dark World brings this notorious theme back to the human world with a slew of new features! Heres just some what you can expect:

Reign-Beaux, Overlord of Dark World has received a promotion! This new form of Reign-Beaux Level 8 monster with 3000 ATK can Special Summon itself from the Graveyard (GY) simply by returning a Level 7 or lower Dark World monster from your field to your hand. If it is discarded to the GY, you can add a Level 5 or higher Dark World monster from your Deck to your hand, and if it was your opponent who forced you to discard, watch out

Reign-Beaux isnt the only one whos been waiting for this day for over a decade! The great dragon lord Grapha has a brand-new form as well! The new Grapha is a Fusion Monster Summoned using Grapha, Dragon Lord of Dark World and any other DARK monster. You can Summon it with a new Spell Card that lets you Fusion Summon by discarding cards, triggering the effects of any Dark World monsters used as well as other powerful DARK monsters like the Danger! monsters. While this new Fusion Monster is on the field, you can hijack an opponents Normal Spell/Trap Card or monster effect, turning it into a discard effect that unleashes your Dark World monsters true power!

This new Structure Deck is playable right out of the box the Dark World army awaits you!

Each Structure Deck contains:

5 Ultra Rare Cards
3 Super Rare Cards
37 Common Cards
1 Double-sided Deluxe Game Mat/Dueling Guide