Black Panther: Wakanda Forever Marvel Legends Attuma Build-a-Figure Namor Action Figure (Pre-Order ships January)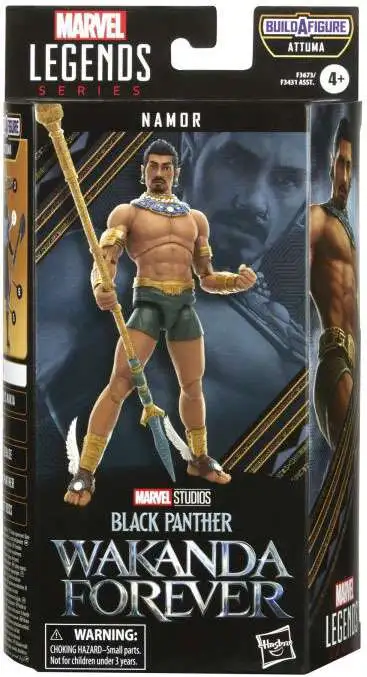 Black Panther: Wakanda Forever Marvel Legends Attuma Build-a-Figure Namor Action Figure (Pre-Order ships January)
---
Availability:
Pre-Order
What is a Pre-Order?
A pre-order is an item that has not yet been released, but is available to be ordered in advance.
If an item has Pre-Order in the title it will NOT be shipped until it arrives at our warehouse, which will usually be the month listed in the title.
The expected ship month is an estimate based on the manufacturer's release schedule, and not a guarantee.
If you use PayPal, you will be charged for the items when you place your order.
If you use Amazon, your card will be authorized now, but will not be charged until the item is ready to ship.
If you use a Credit Card, you will have the option to be charged now, or charge when the item is ready to ship.
If you place an order and later change your mind, you can cancel your pre-order any time before the item ships, for any reason.
For more information click here.
---
Company:
Hasbro Toys
Brand:
Marvel
Series:
Marvel Legends Attuma Build-a-Figure
Item Type:
Action Figure
Status:
Pre-Order
Category:
Marvel
Marvel Legends
Black Panther
Stock #:
404447
---
---
See full description...
Product Description
Namor emerges into the MCU and Marvel legends with this premium 6-inch-scale action figure inspired by Marvel Studios Black Panther: Wakanda Forever. This Marvel Legends Namor figure features extensive articulation for dynamic posability, and movie-authentic deco and detailing inspired by the movie, from the wings at his ankles to his elaborate neckpiece and armbands! Includes figure, 3 accessories, and 1 Attuma build-a-figure part
Product Description
Namor emerges into the MCU and Marvel legends with this premium 6-inch-scale action figure inspired by Marvel Studios Black Panther: Wakanda Forever. This Marvel Legends Namor figure features extensive articulation for dynamic posability, and movie-authentic deco and detailing inspired by the movie, from the wings at his ankles to his elaborate neckpiece and armbands! Includes figure, 3 accessories, and 1 Attuma build-a-figure part