🎁 HOLIDAY SHIPPING SCHEDULE 📦
▶
For STANDARD delivery by Saturday, 12/24*
Order by Monday 12/19, 11:59pm
Order by Friday 12/16, 11:59pm
Order by Thursday 12/15, 11:59pm
Order by Wednesday 12/14, 11:59pm
For RUSH delivery by Saturday, 12/24*
Order by Tuesday 12/20, 11:59pm
Order by Tuesday 12/20, 11:59pm
Order by Tuesday 12/20, 11:59pm
Order by Tuesday 12/20, 11:59pm
* Please note these dates are best estimates for when you should order by and are are NOT guarantees.
Disney Fairytale Designer Collection Princess Tiana & Prince Naveen Exclusive 11.5-Inch Doll Set
has successfully been added to your cart!
Continue Shopping
View Shopping Cart
Checkout
Disney Fairytale Designer Collection Princess Tiana & Prince Naveen Exclusive 11.5-Inch Doll Set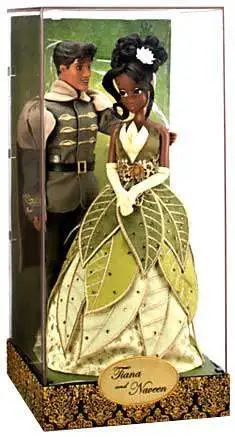 ❮
❯
Disney Fairytale Designer Collection Princess Tiana & Prince Naveen Exclusive 11.5-Inch Doll Set
---
Availability:
Out of Stock
---
NOTIFY ME WHEN AVAILABLE!
We will not use your email for any other purpose!
Email address submitted! You will be notified if and when this product is back in stock.
---
---
Description
Details
Our Guarantees
Visit Our Store!
Product Description
New leaf
Possessing a love of cooking, Tiana has all the ingredients to become a perfect princess. Paired with her handsome Prince, this stunning set of finely detailed Disney Fairytale Designer Collection dolls will be cherished happily ever after.
As part of the Disney Fairytale Designer Collection this pair of Tiana and Prince Naveen dolls were carefully crafted by artists inspired by Disney's 2009 movie, The Princess and the Frog. The Disney Princess and her Prince have been reimagined in exquisite detail with these limited edition dolls. Brought to life with thoughtful attention, they uniquely capture the essence of the fairytale couple, creating a one of a kind set that will be a treasured keepsake of collectors, Disney fans and every princess at heart.
- Global Limited Editon of 6000
- Includes Certificate of Authenticity
- Romantic swept-up hair with water lilly accent
- Elegant olive green bodice with pale yellow satin leaf inset
- Intricately sculpted gold floral belt with sparkling gems
- Multilayered organza leaf gown in rich olive green hues
- Embellished with gold embroidery and glittering crystals
- Dramatic make-up and rooted eyelashes
- Prince features light green twill tunic with gold leaf embroidery details
- Matching hazel-colored cape with a rich dark green satin lining
- Dolls sold in a special keepsake display case with intricate details on the base, including a golden plate with the names of Tiana and Naveen
Our Guarantees to You, Our Valued Customer!
We Guarantee you a safe and secure shopping experience.
We Guarantee you everything sold on Toywiz is 100% genuine, authentic and licensed merchandise
We Guarantee you 100% satisfaction. if you are not completely satisfied you have 30 days to return any unopened product and get a full refund.
We Guarantee you we will ship your product within one business day of your order being confirmed.
We Guarantee you will be a happy customer!
Visit Our Store
Please Come Visit Us!


If you are in the New York area, please come visit our newly renovated, state of the art 3,000 square foot retail store. Fully stocked with all your favorite toys, trading card games, sports cards & more. Pokemon, Magic the Gathering, YuGiOh, Star Wars, Transformers, Marvel Legends, we have it all! If you are looking for something specific, or are coming from a long distance away, please call ahead of time for our hours and also to arrange to have what you are looking for in stock and available. We look forward to seeing you!
ToyWiz Store
347 West Route 59
Nanuet NY 10954
845-624-2224
Customers Also Purchased