🎁 HOLIDAY SHIPPING SCHEDULE 📦
▶
For STANDARD delivery by Saturday, 12/24*
Order by Thursday 12/19, 11:59pm
Order by Thursday 12/16, 11:59pm
Order by Thursday 12/15, 11:59pm
Order by Thursday 12/14, 11:59pm
For RUSH delivery by Saturday, 12/24*
Order by Thursday 12/20, 11:59pm
Order by Thursday 12/20, 11:59pm
Order by Thursday 12/20, 11:59pm
Order by Thursday 12/20, 11:59pm
* Please note these dates are best estimates for when you should order by and are are NOT guarantees.
YuGiOh Trading Card Game Yugi's Legendary Decks Yugi's Gadget Deck Structure Deck [Loose]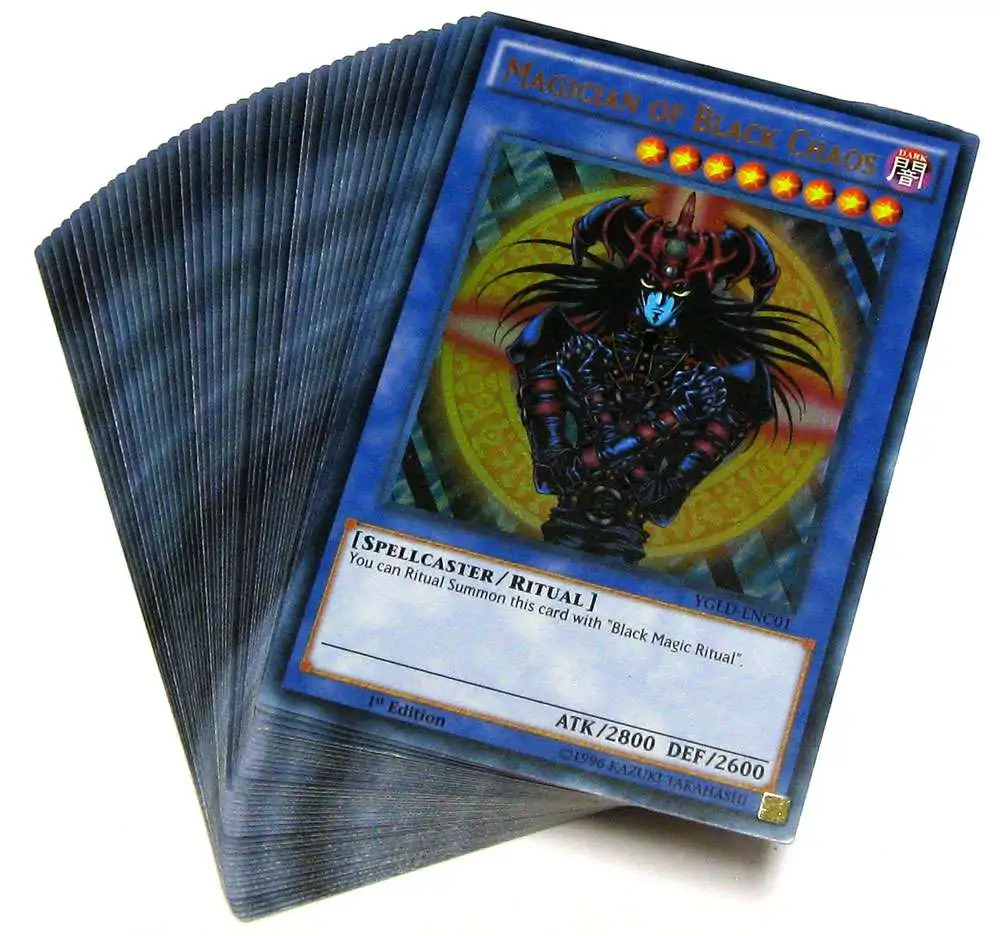 YuGiOh Trading Card Game Yugi's Legendary Decks Yugi's Gadget Deck Structure Deck [Loose]
---
Availability:
Out of Stock
---
NOTIFY ME WHEN AVAILABLE!
We will not use your email for any other purpose!
Email address submitted! You will be notified if and when this product is back in stock.
---
41-card Deck used by Yugi as he battled The Pharaoh himself in the final Duel of the original series, focused on Gadget monsters and the Silent series of LV monsters.

YGLD-ENC01 Magician of Black Chaos
YGLD-ENC02 Dark Magician of Chaos
YGLD-ENC03 Gandora the Dragon of Destruction
YGLD-ENC04 Silent Magician LV8
YGLD-ENC05 Silent Magician LV4
YGLD-ENC06 Silent Swordsman LV7
YGLD-ENC07 Silent Swordsman LV5
YGLD-ENC08 Silent Swordsman LV3
YGLD-ENC09 Dark Magician
YGLD-ENC10 Dark Magician Girl
YGLD-ENC11 Buster Blader
YGLD-ENC12 The Tricky
YGLD-ENC13 Jack's Knight
YGLD-ENC14 Queen's Knight
YGLD-ENC15 King's Knight
YGLD-ENC16 Green Gadget
YGLD-ENC17 Red Gadget
YGLD-ENC18 Yellow Gadget
YGLD-ENC19 Skilled Dark Magician
YGLD-ENC20 Skilled White Magician
YGLD-ENC21 Blockman
YGLD-ENC22 Marshmallon
YGLD-ENC23 Kuriboh
YGLD-ENC24 Monster Reborn
YGLD-ENC25 Swords of Revealing Light
YGLD-ENC26 Gold Sarcophagus
YGLD-ENC27 Card of Sanctity
YGLD-ENC28 Polymerization
YGLD-ENC29 Dark Magic Attack
YGLD-ENC30 Magicians Unite
YGLD-ENC31 Dedication through Light and Darkness
YGLD-ENC32 Black Magic Ritual
YGLD-ENC33 Tricky Spell 4
YGLD-ENC34 Emblem of Dragon Destroyer
YGLD-ENC35 Marshmallon Glasses
YGLD-ENC36 Mirror Force
YGLD-ENC37 Magician's Circle
YGLD-ENC38 Shattered Axe
YGLD-ENC39 Stronghold the Moving Fortress
YGLD-ENC40 Miracle Restoring
YGLD-ENC41 Dark Paladin
---
---
Product Highlights
Deck contains 41 cards
Includes Mirror Force and Silent Magician!
See full description...
Product Description
41-card Deck used by Yugi as he battled The Pharaoh himself in the final Duel of the original series, focused on Gadget monsters and the Silent series of LV monsters.

YGLD-ENC01 Magician of Black Chaos
YGLD-ENC02 Dark Magician of Chaos
YGLD-ENC03 Gandora the Dragon of Destruction
YGLD-ENC04 Silent Magician LV8
YGLD-ENC05 Silent Magician LV4
YGLD-ENC06 Silent Swordsman LV7
YGLD-ENC07 Silent Swordsman LV5
YGLD-ENC08 Silent Swordsman LV3
YGLD-ENC09 Dark Magician
YGLD-ENC10 Dark Magician Girl
YGLD-ENC11 Buster Blader
YGLD-ENC12 The Tricky
YGLD-ENC13 Jack's Knight
YGLD-ENC14 Queen's Knight
YGLD-ENC15 King's Knight
YGLD-ENC16 Green Gadget
YGLD-ENC17 Red Gadget
YGLD-ENC18 Yellow Gadget
YGLD-ENC19 Skilled Dark Magician
YGLD-ENC20 Skilled White Magician
YGLD-ENC21 Blockman
YGLD-ENC22 Marshmallon
YGLD-ENC23 Kuriboh
YGLD-ENC24 Monster Reborn
YGLD-ENC25 Swords of Revealing Light
YGLD-ENC26 Gold Sarcophagus
YGLD-ENC27 Card of Sanctity
YGLD-ENC28 Polymerization
YGLD-ENC29 Dark Magic Attack
YGLD-ENC30 Magicians Unite
YGLD-ENC31 Dedication through Light and Darkness
YGLD-ENC32 Black Magic Ritual
YGLD-ENC33 Tricky Spell 4
YGLD-ENC34 Emblem of Dragon Destroyer
YGLD-ENC35 Marshmallon Glasses
YGLD-ENC36 Mirror Force
YGLD-ENC37 Magician's Circle
YGLD-ENC38 Shattered Axe
YGLD-ENC39 Stronghold the Moving Fortress
YGLD-ENC40 Miracle Restoring
YGLD-ENC41 Dark Paladin
Product Description
41-card Deck used by Yugi as he battled The Pharaoh himself in the final Duel of the original series, focused on Gadget monsters and the Silent series of LV monsters.

YGLD-ENC01 Magician of Black Chaos
YGLD-ENC02 Dark Magician of Chaos
YGLD-ENC03 Gandora the Dragon of Destruction
YGLD-ENC04 Silent Magician LV8
YGLD-ENC05 Silent Magician LV4
YGLD-ENC06 Silent Swordsman LV7
YGLD-ENC07 Silent Swordsman LV5
YGLD-ENC08 Silent Swordsman LV3
YGLD-ENC09 Dark Magician
YGLD-ENC10 Dark Magician Girl
YGLD-ENC11 Buster Blader
YGLD-ENC12 The Tricky
YGLD-ENC13 Jack's Knight
YGLD-ENC14 Queen's Knight
YGLD-ENC15 King's Knight
YGLD-ENC16 Green Gadget
YGLD-ENC17 Red Gadget
YGLD-ENC18 Yellow Gadget
YGLD-ENC19 Skilled Dark Magician
YGLD-ENC20 Skilled White Magician
YGLD-ENC21 Blockman
YGLD-ENC22 Marshmallon
YGLD-ENC23 Kuriboh
YGLD-ENC24 Monster Reborn
YGLD-ENC25 Swords of Revealing Light
YGLD-ENC26 Gold Sarcophagus
YGLD-ENC27 Card of Sanctity
YGLD-ENC28 Polymerization
YGLD-ENC29 Dark Magic Attack
YGLD-ENC30 Magicians Unite
YGLD-ENC31 Dedication through Light and Darkness
YGLD-ENC32 Black Magic Ritual
YGLD-ENC33 Tricky Spell 4
YGLD-ENC34 Emblem of Dragon Destroyer
YGLD-ENC35 Marshmallon Glasses
YGLD-ENC36 Mirror Force
YGLD-ENC37 Magician's Circle
YGLD-ENC38 Shattered Axe
YGLD-ENC39 Stronghold the Moving Fortress
YGLD-ENC40 Miracle Restoring
YGLD-ENC41 Dark Paladin