🎁 HOLIDAY SHIPPING SCHEDULE 📦
▶
For STANDARD delivery by Saturday, 12/24*
Order by Monday 12/19, 11:59pm
Order by Friday 12/16, 11:59pm
Order by Thursday 12/15, 11:59pm
Order by Wednesday 12/14, 11:59pm
For RUSH delivery by Saturday, 12/24*
Order by Tuesday 12/20, 11:59pm
Order by Tuesday 12/20, 11:59pm
Order by Tuesday 12/20, 11:59pm
Order by Tuesday 12/20, 11:59pm
* Please note these dates are best estimates for when you should order by and are are NOT guarantees.
Marvel Universe Series 19 She-Hulk Action Figure #12
has successfully been added to your cart!
Continue Shopping
View Shopping Cart
Checkout
Marvel Universe Series 19 She-Hulk Action Figure #12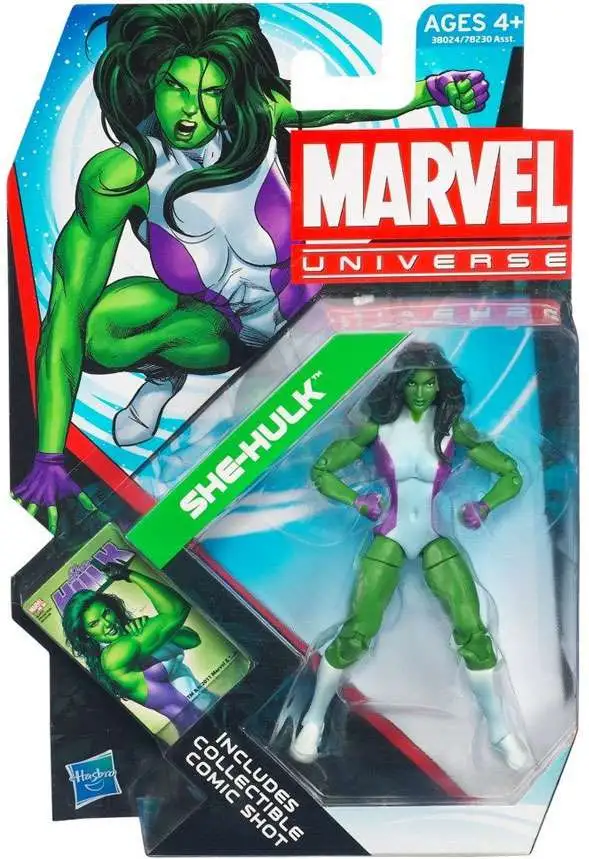 ❮
❯
Marvel Universe Series 19 She-Hulk Action Figure #12
---
Availability:
Out of Stock
---
NOTIFY ME WHEN AVAILABLE!
We will not use your email for any other purpose!
Email address submitted! You will be notified if and when this product is back in stock.
---
Description
Details
Our Guarantees
Visit Our Store!
Product Details
Company:
Hasbro
Series:
Series 19
Item Type:
Action Figure
Brand:
Marvel
Release Date:
September 2012
Release Date:
September 2012
Stock #:
121841
UPC:
653569699309
Product Description
After being shot by two crime syndicate thugs, attorney Jennifer Walters received a blood transfusion from her cousin Bruce Banner, giving her nearly identical HULK powers. Walters has the same savage strength but, unlike the green goliath, her intelligence carries over into her SHE-HULK form. That unique combination of super strength and sharpened smarts made her one of the few heroes invited to become an official member of THE FANTASTIC FOUR.
Villains beware! This intimidating SHE-HULK heroine is ready to fight for whats right at any cost. Detailed action figure is poised for battle and ready to take a stand for justice or simply stand in your collection. Includes collectible comic shot! Figure comes with collectible comic shot. Series 4 012 SHE-HULK.
Our Guarantees to You, Our Valued Customer!
We Guarantee you a safe and secure shopping experience.
We Guarantee you everything sold on Toywiz is 100% genuine, authentic and licensed merchandise
We Guarantee you 100% satisfaction. if you are not completely satisfied you have 30 days to return any unopened product and get a full refund.
We Guarantee you we will ship your product within one business day of your order being confirmed.
We Guarantee you will be a happy customer!
Visit Our Store
Please Come Visit Us!


If you are in the New York area, please come visit our newly renovated, state of the art 3,000 square foot retail store. Fully stocked with all your favorite toys, trading card games, sports cards & more. Pokemon, Magic the Gathering, YuGiOh, Star Wars, Transformers, Marvel Legends, we have it all! If you are looking for something specific, or are coming from a long distance away, please call ahead of time for our hours and also to arrange to have what you are looking for in stock and available. We look forward to seeing you!
ToyWiz Store
347 West Route 59
Nanuet NY 10954
845-624-2224