McFarlane Toys DC Multiverse Page Punchers Gorilla Grodd MEGA Action Figure (Pre-Order ships October)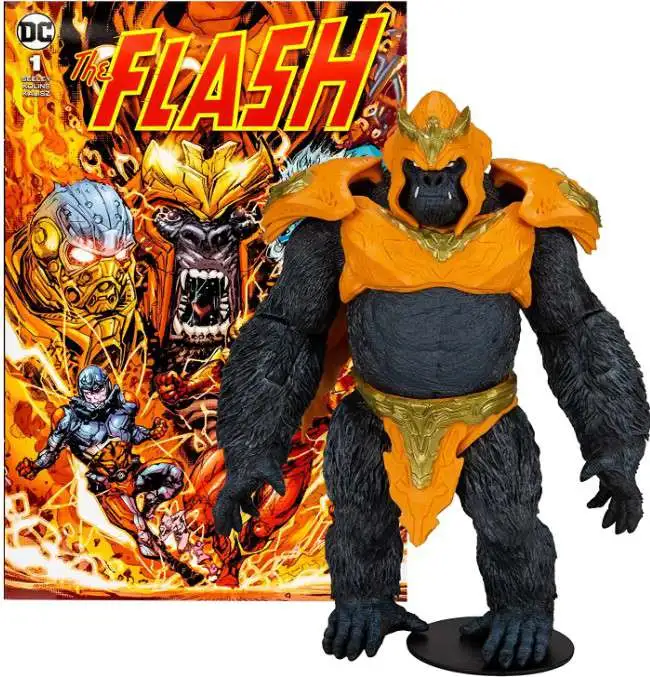 McFarlane Toys DC Multiverse Page Punchers Gorilla Grodd MEGA Action Figure (Pre-Order ships October)
---
Availability:
Pre-Order
What is a Pre-Order?
A Pre-Order is an item that has not yet been released by the manufacturer, but is available to be ordered in advance.
Pre-Ordering an item is a great way to guarantee yourself a place in line, as we ship on a first come first serve basis.
The expected ship month listed in the title is an estimate based on the manufacturer's schedule. It is the most accurate information we have, but not necessarily a guarantee.
If you use a Credit Card, you will have the option to be charged now, or charged when the item is ready to ship.
If you use Amazon, your card will be authorized now, but will not be charged until the item is ready to ship.
You can cancel your pre-order any time before the item ships, for any reason, with no penalty.
For more information about Pre-Orders click here.
---
Company:
McFarlane Toys
Brand:
DC
Series:
Page Punchers
Item Type:
Action Figure
Status:
Pre-Order
Category:
McFarlane Toys
DC Universe
Stock #:
407625
UPC:
787926159912
---
---
Product Highlights
A hyper-intelligent telepathic ape, Gorilla Grodd has sought to rule both the simian and human worlds, though the Flash has frequently thwarted his plans. Although many of the Flash's most dangerous Rogues are criminals with gimmicks or evil speedsters, there is one enemy of the Fastest Man Alive who stands apartthe hyper intelligent ape known as Gorilla Grodd.
See full description...
Product Description
A hyper-intelligent telepathic ape, Gorilla Grodd has sought to rule both the simian and human worlds, though the Flash has frequently thwarted his plans. Although many of the Flash's most dangerous Rogues are criminals with gimmicks or evil speedsters, there is one enemy of the Fastest Man Alive who stands apartthe hyper intelligent ape known as Gorilla Grodd. The product of a chance encounter with an alien race, Grodd and his people evolved past the common gorillas who lived in his portion of the African jungle and developed super intelligence, along with a wide array of other mental powers. But while the rest of his people chose to live apart from the world peacefully, Grodd only sought to conquer humanity so he could rule it. First coming into conflict with the Barry Allen version of the Flash, Grodd was a thorn in not only his side for many years, but also his successor Wally West's. Grodd also plagued the Justice League by joining forces with the likes of the Secret Society of Super-Villains, the Legion of Doom and other organizations of super criminals bent on world domination. With his genius-level intellect combined with his innate animal savagery and his vast mental abilities, Gorilla Grodd is, ironically, not an enemy to ever be monkeyed with.
Megafigs are large figures to match their 7 scale figure counterparts based off the DC Multiverse
Designed with Ultra Articulation with up to 22 moving parts for full range of posing and play
Gorilla Grodd is based on the exclusive included comic designed by McFarlane Toys
Gorilla Grodd comes with a base
Included is a collectible comic featuring what the figure is based on, as well as a collectible art card with figure artwork on the front, and character biography on the back
Collect all additional McFarlane Toys DC Page Punchers
Product Description
A hyper-intelligent telepathic ape, Gorilla Grodd has sought to rule both the simian and human worlds, though the Flash has frequently thwarted his plans. Although many of the Flash's most dangerous Rogues are criminals with gimmicks or evil speedsters, there is one enemy of the Fastest Man Alive who stands apartthe hyper intelligent ape known as Gorilla Grodd. The product of a chance encounter with an alien race, Grodd and his people evolved past the common gorillas who lived in his portion of the African jungle and developed super intelligence, along with a wide array of other mental powers. But while the rest of his people chose to live apart from the world peacefully, Grodd only sought to conquer humanity so he could rule it. First coming into conflict with the Barry Allen version of the Flash, Grodd was a thorn in not only his side for many years, but also his successor Wally West's. Grodd also plagued the Justice League by joining forces with the likes of the Secret Society of Super-Villains, the Legion of Doom and other organizations of super criminals bent on world domination. With his genius-level intellect combined with his innate animal savagery and his vast mental abilities, Gorilla Grodd is, ironically, not an enemy to ever be monkeyed with.
Megafigs are large figures to match their 7 scale figure counterparts based off the DC Multiverse
Designed with Ultra Articulation with up to 22 moving parts for full range of posing and play
Gorilla Grodd is based on the exclusive included comic designed by McFarlane Toys
Gorilla Grodd comes with a base
Included is a collectible comic featuring what the figure is based on, as well as a collectible art card with figure artwork on the front, and character biography on the back
Collect all additional McFarlane Toys DC Page Punchers