YuGiOh Trading Card Game Dragunity Legion (1st Edition) Structure Deck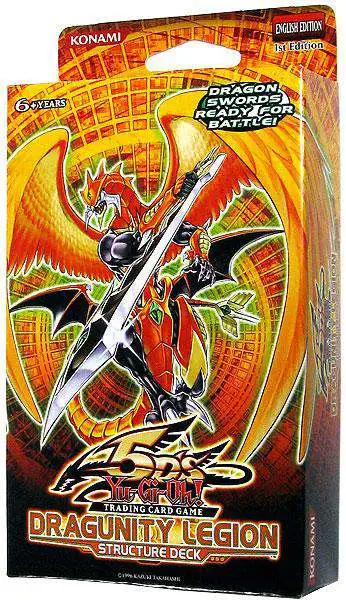 YuGiOh Trading Card Game Dragunity Legion (1st Edition) Structure Deck
---
Availability:
Out of Stock
---
NOTIFY ME WHEN AVAILABLE!
We will not use your email for any other purpose!
Email address submitted! You will be notified if and when this product is back in stock.
---
Dragunity Legion is a ready-to-play 40-card Deck. It has everything you need to get your own Dragunity Deck started, including 5 brand-new cards available no place else!
Dragunity Legion also contains cards that work well in any Deck, including United We Stand, Twin-Headed Behemoth, Windstorm of Etaqua, and Bottomless Trap Hole!
Structure Deck: Dragunity Legion Contains:
37 Common Cards
1 Ultra Rare Card
2 Super Rare Cards
1 Rulebook
1 Game Mat
1 Dueling Guide
---
---
Product Highlights
1st Edition
Contains 40 cards
See full description...
Product Description
Dragunity Legion is a ready-to-play 40-card Deck. It has everything you need to get your own Dragunity Deck started, including 5 brand-new cards available no place else!
Dragunity Legion also contains cards that work well in any Deck, including United We Stand, Twin-Headed Behemoth, Windstorm of Etaqua, and Bottomless Trap Hole!
Structure Deck: Dragunity Legion Contains:
37 Common Cards
1 Ultra Rare Card
2 Super Rare Cards
1 Rulebook
1 Game Mat
1 Dueling Guide
Product Description
Dragunity Legion is a ready-to-play 40-card Deck. It has everything you need to get your own Dragunity Deck started, including 5 brand-new cards available no place else!
Dragunity Legion also contains cards that work well in any Deck, including United We Stand, Twin-Headed Behemoth, Windstorm of Etaqua, and Bottomless Trap Hole!
Structure Deck: Dragunity Legion Contains:
37 Common Cards
1 Ultra Rare Card
2 Super Rare Cards
1 Rulebook
1 Game Mat
1 Dueling Guide